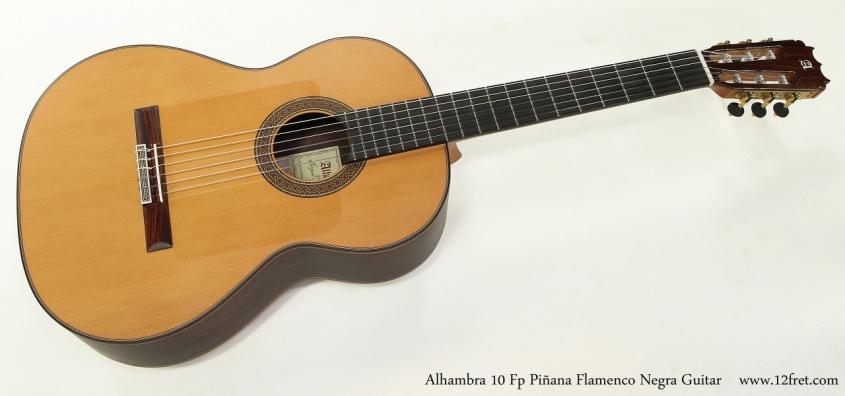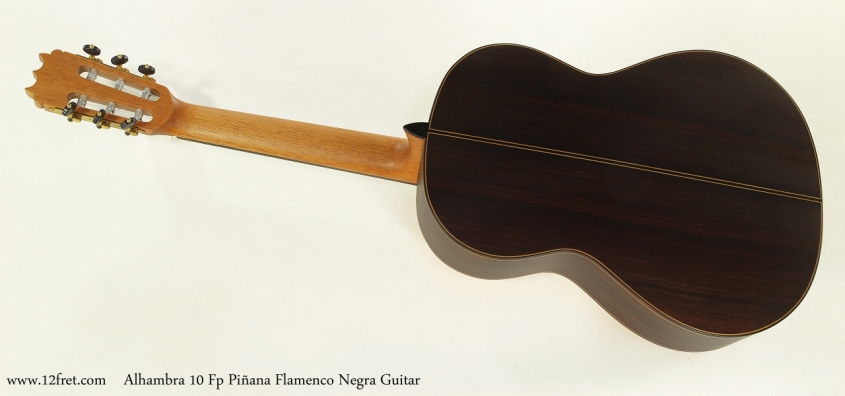 The Alhambra 10FP Carlos Pinana Flamenco Negra guitar, a recent model from Alhambra guitars in the eastern part of Spain.  Many contemporary Flamenco players find they need a guitar that offers a fuller and rounder bass response, as well as the traditional treble-clarity and power one expects in a traditional Flamenco guitar. To this end we have seen an increasing number of Flamenco Guitars built with dark coloured Rosewood back and sides, commonly called Flamenco Negra guitars.
Alhambra Guitars, in a collaboration with Carlos Piñana, a fabulous young player from Murcia, Spain, have focused on making dramatic improvements to the Flamenco Negra Guitar.  Master Luthiers Menguel Y Margarit of the Alhambra Custom Shop completed a year-long experimental phase developing an entirely new bracing system for these new guitars.  Breaking with tradition they chose the increased responsiveness of cedar for the top; abandoning the standard 7-fan-brace pattern, they developed a complex bracing system of 9 delicate parallel braces intersected by 2 cross members with a total of 15 individual top braces; and joined to the sides using massive solid Spanish-cedar linings.
The Alhambra 10FP Rosewood for the back and sides is selected for density and is thicker resulting in a noticeably heavier guitar. They bring to mind the guitars of the famed Barcelona maker, Ignacio Fleta who also used thicker back and sides to reflect bass and offer improved balance in his guitars.
Finish is matt which means the bare minimum of varnish is applied to the instrument, ensuring that the response will be maximised.  The tuners are metal barrel type and very smooth. One feature I really like; the Golpeador or clear tap-plate has a 3 cm open break in the center; fitted in two pieces rather than the standard one-piece which should dramatically increase the responsiveness of the top.
In our opinion the new Alhambra 10FP Piñana guitar is comfortably in the same tonal league as any concert-grade Flamenco at three times the price.   We supply these guitars with a hard shell case.
---
Please Email   sales@12fret.com  for price.
---
Email for current price
Model: 10FP Carlos Pinana
Year: Current
Finish Natural Matte
Class: New
Serial Number: Varies as New
Country of Origin: Spain
Condition: Brand New
Date Posted: 19/06/2018
---
---
Including original Hard case
Scale Length: 25.6in 650mm
Nut Width: 2.04in 52mm
Alhambra Website
Contact The Twelfth Fret Regarding This Item