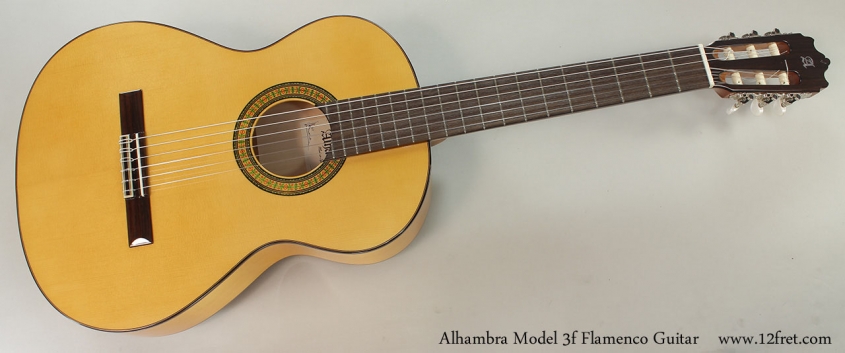 The Alhambra 3f Flamenco guitar is the perfect entry level Flamenco instrument. Built with a solid German Spruce top and laminated Sycamore back and sides, mahogany neck and rosewood fingerboard and bridge, the Alhambra 3f has the bright tone and low action characteristic of flamenco guitars. A Golpeador tap plate is installed.
Flamenco guitars are built for both a melodic and rhythmic purpose. Rather than quiet, introspective performance, Flamenco instruments need to keep up with and cut through the sound produced by singers, dancers, percussionists, and handclaps. These guitars are built to be bright and loud, yet with low action that provides a degree of natural string rattling. Golpeadors, or thin tap plates, are often installed on both sides of the strings to protect the top from percussive effects like rasgueados and golpe.
Traditionally, light woods like Cypress have been used for the back and sides on Flamenco Blanca models. More recently, Rosewood has been used for a warmer sound, and these are Flamenco Negra guitars. In either version, the geometry is the same – light construction and low action, to produce a lively, vibrant, responsive and loud guitar.
Setup: We will setup your Alhambra Flamenco guitar to suit your right hand attack. Flamenco guitars use much lower action compared to classical guitars. Flamenco action is generally set at 6/64 (2.3 mm) when measured at the 12th fret position. This enables the player to get lots of string slap or rattle when attacking aggressively. Low action enhances the signature flamenco percussive sound and facilitates fast, single note passages.
Optional in-store install of Golpé Tap-Plate:  $60.
---
Please Email   sales@12fret.com  for price.
---
Email for current price
Model: 3f
Year: Current
Class: New
Condition: Brand New
---
---
Alhambra Website
Contact The Twelfth Fret Regarding This Item