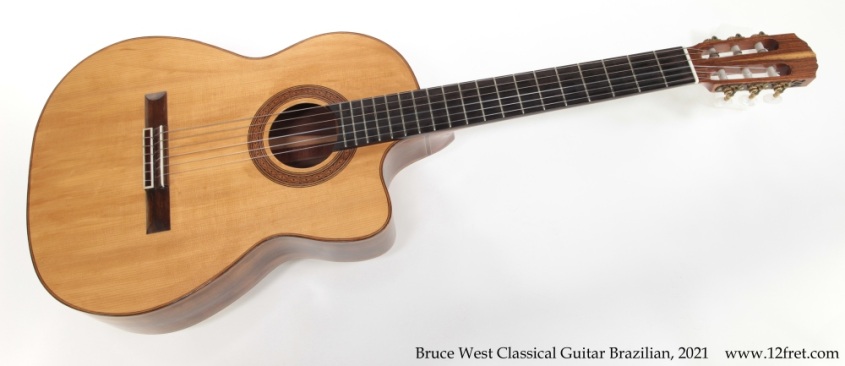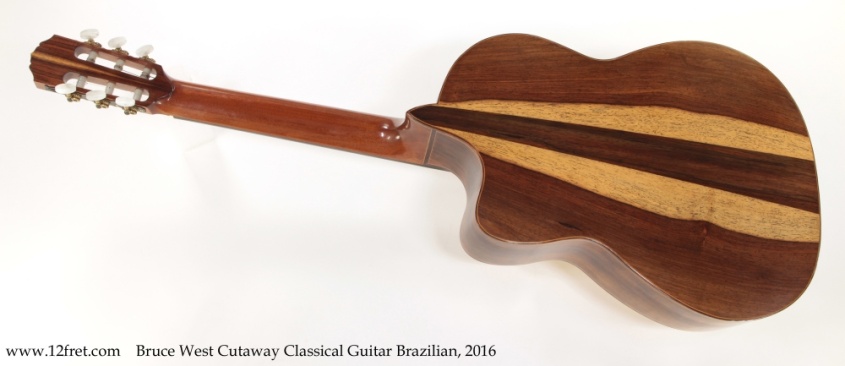 This Bruce West Cutaway Classical guitar, bearing the serial 16-1 and built during 2016 in Sterling, Ontario features a hundred year old Swiss Alpine Spruce top and Brazilian Rosewood sides and back. Like Bruce's other guitars, this tie into an interesting and pivotal period of Canadian luthiery history.
Bruce West has been involved in musical instrument building for most of his life, starting at age 12 with a bench at Geo. Heinl's workshop in Toronto. In his teens he also played guitar for Ronny Hawkins! Friends with Jean Larrivee, Bruce built relationships with all the now-prominent builders who went through the Larrivee Toronto shops. He was also friends and partners in some wood ventures with Darryl Williams, who specialized in baroque instruments and classical guitars. I worked with Darryl Williams for some years prior to The Twelfth Fret, and met Bruce during those times. I was helping around the shop during the re-sawing of these Rosewood and Spruce sets – and Ebony fingerboard and bridge billets. Ebony dust gets everywhere!
This Bruce West Cutaway Classical, like the just-posted non-cutaway 2021 model, features an Alpine Spruce top.
Here's Bruce describing how he acquired this wood, which he has been using for many years:
"Back in the 1970's when I had a few bucks in my pocket, Jose Romanillos came to Toronto for a guitar making workshop. That's where I met him and he told me about a Mr. McCurdy who was a retired cello maker in the south of England. When Alex McCurdy was an apprentice, his mentor took him to the alps in Switzerland and they selected the most promising spruce tree they could find. they cut it into billets and shipped it back to England. McCurdy's job as an apprentice was to hand split and sticker the prize to air dry..

I immediately got in touch with McCurdy and found out that he had some of that batch of wood left so I bought it all.
The bottom line is, the wood is about 100 years old and is from the same tree as the one that Romanillos used for his finest guitars, as played by Julian Bream."
For the back, sides, bridge, head plate and backstrap, this Bruce West Cutaway Classical uses a Brazilian Rosewood set harvested in the 1960s, and purchased in Quebec in 1977. CITES permits are available. The body blocks and neck are Mahogany and the fingerboard is Ebony. The finish on this guitar, like most others Bruce West builds, is hand-applied violin varnish. The varnish itself likely made by Bruce, a practice he developed with Darryl Williams. The bridge uses a 12-hole tie block, which makes re-stringing easier and improves downbearing on the saddle.
The original Everest hard shell case is included.
---
Price: $6,900.00 CAD
Year: Current
Finish Natural Varnish
Class: New
Serial Number: 16-1, built during 2016 in Sterling, Ontario.
Country of Origin: Canada
Condition: Excellent
Date Posted: 10/01/2023
---
---
Including original Hard case
Instrument Weight: 3.344lbs 1.52kg
Scale Length: 25.59in 650mm
Nut Width: 2.100in 53.36mm
Bruce West Website
Contact The Twelfth Fret Regarding This Item