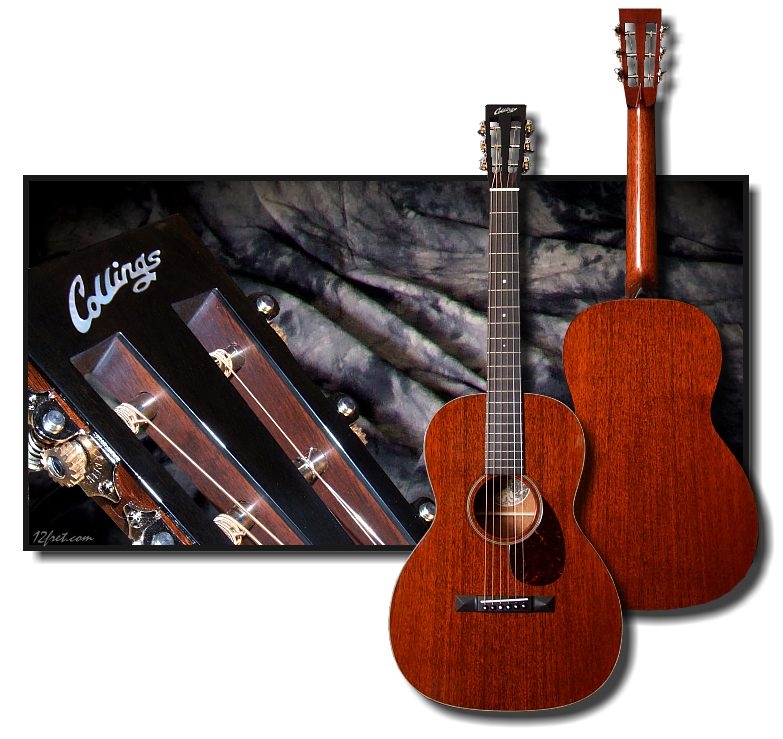 There's something about sitting down and playing a beautiful small-bodied guitar that just puts a smile on my face. The way it responds in detail to the softest strum. Now, I love a nice powerful dreadnaught as much as anyone, but I really do feel there are elements of any guitar's personality that get lost under a heavy right hand attack. The subtle overtones hidden within the note bloom, the way the harmonics shift throughout the decay… you don't always get to appreciate these things at higher volumes. With that in mind, it's easy to understand why I've fallen so deeply in love with this Collings 001 Mahogany. What looks at first glance like a simple little guitar quickly reveals a huge amount of sonic personality and character. The more you listen, the more you hear!
In terms of specifications, the Collings 001 Mahogany does everything right to get as much tonal range as possible out of a small body guitar. The 12th fret body joint shifts the bridge placement slightly farther down the guitar, increasing the amount of top-resonance. The solid ebony pyramid bridge allows a huge amount of string vibration to transfer to the guitar, thanks to its smaller footprint. It also torques the top differently than a standard bridge, again increasing the responsiveness of the instrument. Most players find a pyramid bridge creates slightly more clarity and presence in the high end, which matches perfectly with the buttery smooth midrange generated by the solid mahogany top. Many small body guitars suffer from a lack of sonic depth, and end up sounding a little thin. Not this guitar! Thanks to the scalloped bracing, the 001 Mahogany generates a rich, full tone even with the lightest touch.
All in all, this Collings 001 Mahogany is the perfect small body guitar!
Specifications
• Honduran mahogany top, back & sides
• Tortoise-style binding
• Pre-war scalloped bracing
• Black/white wood nitrate strip rosette
• Tortoise-style pickguard
• High gloss nitrocellulose lacquer finish
• Honduran Mahogany Neck
• Ebony fingerboard and pyramid bridge
• Slotted peghead with ebony overlay
• Mother-of-pearl Collings logo
• Pearl dot fingerboard markers
• Fully adjustable truss rod
• Bone nut and drop-in saddle
• Ebony bridge pins and end pin
• Nickel Waverly slot-head tuners
---
Model: 00
Year: Current
Class: New
Condition: Brand New
---
---
Contact The Twelfth Fret Regarding This Item