Instrument Categories: Banjos, SOLD
Please Note! This Banjo is out of stock and we don't carry it as a regular item.  However, if you are interested, please contact us for pricing and details.   
---
Today we are featuring the new Deering Dropkick Murphys Boston Model Tenor Banjo.
This tenor banjo was originally custom built for the Dropkick Murphys band and is based on a John Hartford banjo template which features highly figured maple neck and resonator with a Grenadillo wood tone ring fitted to a red maple rim with a standard Deering flange. This banjo is loud, warm and full sounding and at 6.85 pounds it is roughly half of the weight of a normal Tenor banjo due to the weight savings of the wood tone ring. This is without a question the lightest weight professional Tenor banjo we have seen!
The pearl inlay of Shamrock and Anchor Crest speaks to the Dropkick Murphys unique appeal to the working class sports culture of the Boston region. This banjo's unique position in a rock band setting is made possible by the new Kavanjo pickup fitted to each new Boston model banjo. The new Kavanjo pickup allows you to get awesome banjo tone at any stage volume you need.
When Jeff DaRosa, the banjo player of the band, played the very first Dropkick Murphys Deering Banjo he said, "This thing Rules!! This is the best banjo I've ever played!"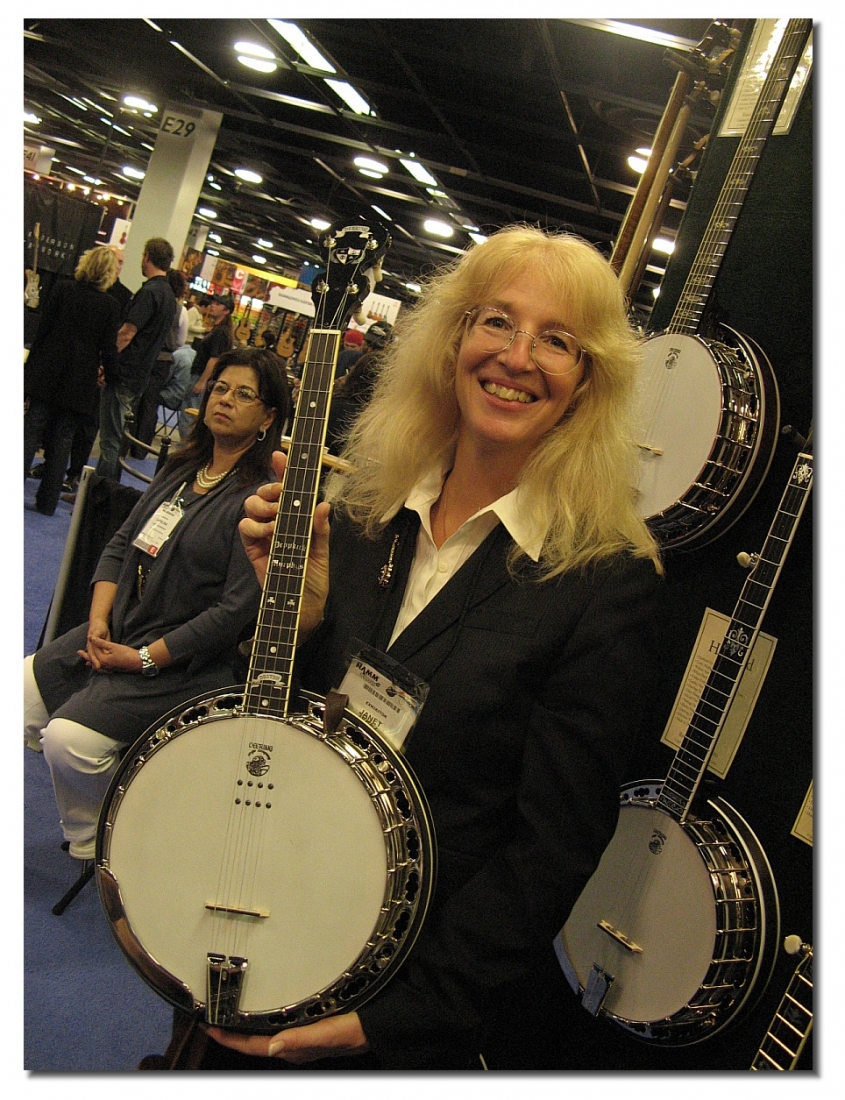 Janet Deering shows off the final edition of the new Dropkick Murphys banjo at the January NAMM show.
The Neck:
Curly Maple with a Dark Walnut Stain
Natural Ebony Fingerboard; 19 Fret neck
Dropkick Murphys Logo Inlay at the 9th and 10th Frets
Shamrock Inlays at the 12th fret
Boston Banner Inlay
White Bound Fingerboard & Peghead
Deering Smooth Planetary Banjo Tuners
Slender, Comfortable Deering Neck Shape
The Pot:
Hartford Grenadillo Tone Ring
Deering Original 3-ply Violin Grade Maple Rim
Kavanjo Banjo Pickup
11″ Frosted Bottom Head
Brass Notched Tension Hoop
One Piece Cast Resonator Flange
5/8″ Deering Maple Ebony Bridge
Deering True Tone Tailpiece
Curly Maple Resonator with Black & White Trim and Ivoroid Binding,
Slender Resonator Depth for quick response
Tuning:
G,D,A,E in Irish tenor tuning,
Can easily be tuned in other tunings as well.
Dimensions:
19 Frets
Neck Width at the Nut 1 5/32"
Scale Length Nut to Bridge 23"
Rim diameter 11″
Warranty:
The trust and pride we share in our product gives us the confidence to grant every
owner of a Deering banjo a Lifetime Warranty ensuring the quality of our materials and workmanship.
A Deering hardshell, archtop case is included.
Check out Grant's Banjo Setup Q&A
You can preview our videos now on Our YouTube Channel!
Price: $0.00 CAD
Model: Dropkick Murphys Boston Model
Year: 2015
Class: New
Condition: Brand New
---
This instrument has been sold
Not Consignment
---
Contact The Twelfth Fret Regarding This Item