Instrument Categories: Banjos
New from the Deering Banjo Company: the Deering Eagle II 5-String Banjo! Available on a limited basis through Master and Premiere level dealers, we are proud to say the Twelfth Fret is the only place in Canada to find this wonderful new banjo!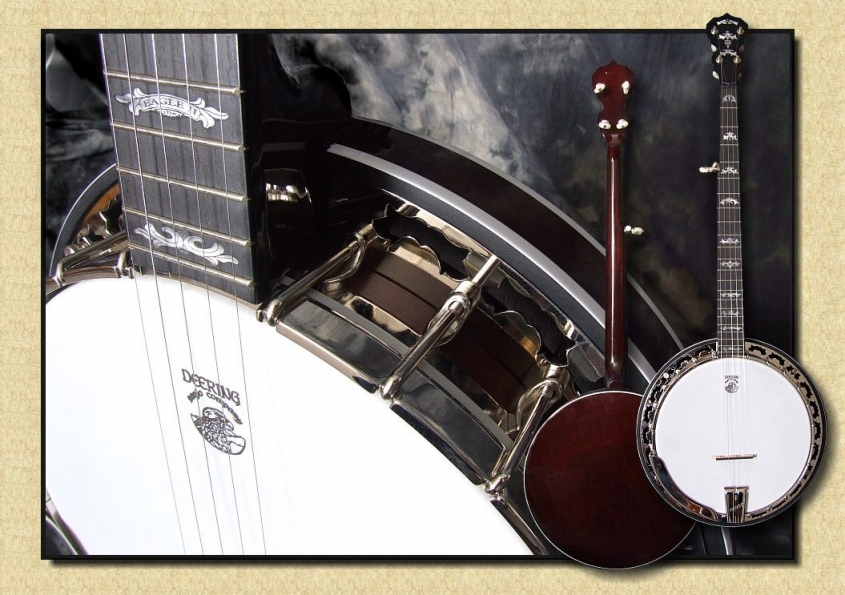 With the Eagle II, Deering has created a banjo with a tonal range unlike anything they have made before. Deering banjos have always been known for their clear, bright attack. The Eagle II has a wonderful attack and high end, with a slightly lighter edge than other Deerings. The Tubaphone-like lower register is warm and rich. This makes the Eagle II incredibly versatile. Clawhammer, Bluegrass, Dixieland strumming…. the Eagle II can do it all
At the heart of the Eagle II is the Deering Patent Pending Twenty-Ten Tone Ring. Also working to enhance the tonal quality of the Eagle II is a new flange made from the same "dead" metal as the Deering tailpiece. According to Greg Deering, nothing on a banjo should ring or resonate other than the tone ring.
Over 2006 and 2007 as the Deering Tenbrooks came into production, Greg experimented with various brass alloys by increasing the lead/zinc content to make a tailpiece that was heavy but did not ring or resonate. Wrap it with your finger and you get a satisfying thump but no musical note-ring. This tailpiece was eventually brought into standard production on all Deering models. The new Eagle II flange uses the same brass alloy resulting in a completely "dead" or resonance free flange. This is a major contributing factor in the tone and volume of the instrument, with a full round bass and lots of midrange up the neck.
Specifications for the Deering Eagle II 5-String Banjo
* Neck: Maple Stained Dark Red Mahogany
* Natural Ebony Fingerboard
* 22 Pressed In Nickel Silver Frets
* Original Eagle Engraved Inlays
* Slender Deering Neck Shape
* Fully Adjustable Truss Rod
* Planetary Banjo Tuners
* Geared 5th String Peg
* Gloss Finish
* Pot: Deering Patent Pending Twenty-Ten Tone Ring
* Three-Ply Violin Grade Maple Rim
* True Tone Deering Tailpiece
* Deering Brass Notched Tension Hoop
* 11" Top Frosted Medium Crown Head
* 24 Round Hooks and ¼" Hex Nuts
* 24 Bracket Shoes
* Eagle 2-Piece Flange
* Slender Shaped Armrest
* Nickel Plated Hardware
* Resonator: Maple Stained Red Mahogany
* White Binding
* Straight Inside Resonator Sidewalls
* Gloss Finish
* Dimensions: Neck Width at the Nut 1 1/4"
* Scale Length Nut to Bridge 26 1/4"
* Resonator diameter 13 7/8"
* Overall Instrument Length 38"
* Weight Approx. 10 lbs
* Includes a Deering Hardshell Case
PRICING: $2689 Canadian dollars, or $2117 US dollars, based on 1.27% exchange rate.
NOTE: Exchange rates change daily!


Check out Grant's Banjo Setup Q&A
You can preview our videos now on Our YouTube Channel!
Price: $2689 CAD
Model: Eagle II
Year: Current
Class: New
Condition: Brand New
---
---
Contact The Twelfth Fret Regarding This Item