2016 marks 30 years of G W Barry guitars at the Twelfth Fret. To celebrate the occasion we are receiving three exquisite new instruments from this veteran builder. They will be released one by one over the course of the next few months and will be grouped under the moniker of " The G.W. Barry 30/12 collection."
The first guitar featured in the G W Barry 30-12 collection is a stunning Mod-C with a splendid Ziricote back and sides set and a premium Lutz Spruce top. At first look it's hard to take your eyes away from the beautiful grain lines of the Ziricote framed by the smooth curves of this guitar. Then you notice the fine details like snakewood and abalone appointments and the impeccable attention to the build quality which we have come to expect from G.W. Barry guitars!
The Mod-C is a variation on G.W. Barry's Concert Model. It has the same body depth and outline but with a quarter inch removed from the entire perimeter — effectively making it a guitar with a 15 1/2 inch wide lower bout. This creates a very comfortable body size, closer to a traditional OM, with a well balanced tone that retains strong bottom end fundamentals.
Lutz Spruce is a hybrid west coast Spuce species (Sitka and White Spruce). Though it has a high 'ceiling' or dynamic range, it is slightly softer than Sitka and imparts more 'bloom', a trait favoured by many fingerstyle guitarists.
Zircote is a central American hardwood that shares many of the attributes of the fabled Brazilian rosewood — deep dark line variegation and a glass like tap-tone.
This guitar also features a carbon fiber/Adirondack Spruce lamination as part of the top's bracing pattern. The lamination is only present on the treble side of the x-brace and is meant to reduce the deflection in that area resulting in a more 'present' and even treble response as one moves up the neck. Additionally, the sideport allows for better monitoring for the player and overall tonal enhancements through increased air movement!
Here's an inside view of the top: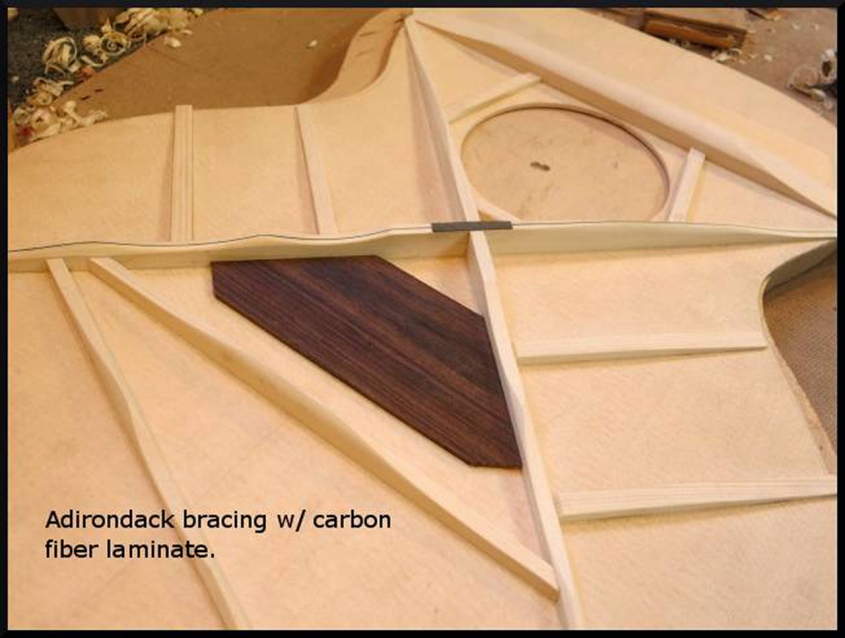 This combination of woods and design features create a lush warmth with exciting overtones, strong bottom end and soft yet very present treble response.
It is always exciting to see a master luthier add new techniques to an already outstanding repertoire of tonal wizardry and this Mod-C delivers!
David Martin demonstrates the G W Barry Mod C Ziricote Video 1:
David Martin demonstrates the G W Barry Mod C Ziricote Video 2:
David Martin demonstrates the G W Barry Mod C Ziricote Video 3:
Price: $0.00 CAD
Model: 30-12 Mod C
Year: Current
Class: New
Condition: Brand New
---
This instrument has been sold
Not Consignment
---
Contact The Twelfth Fret Regarding This Item