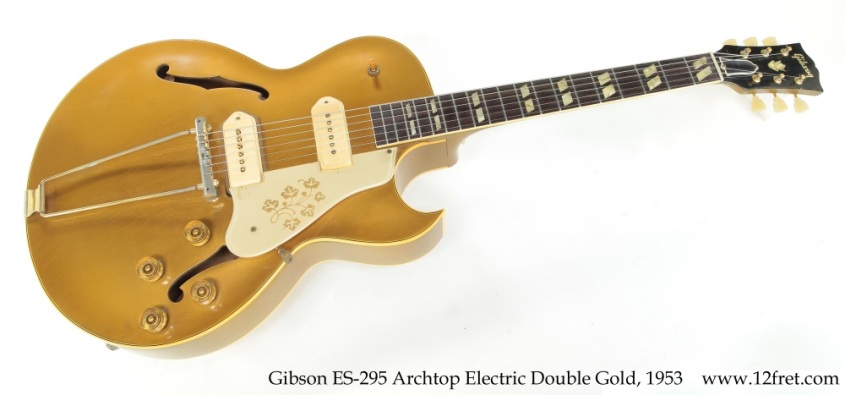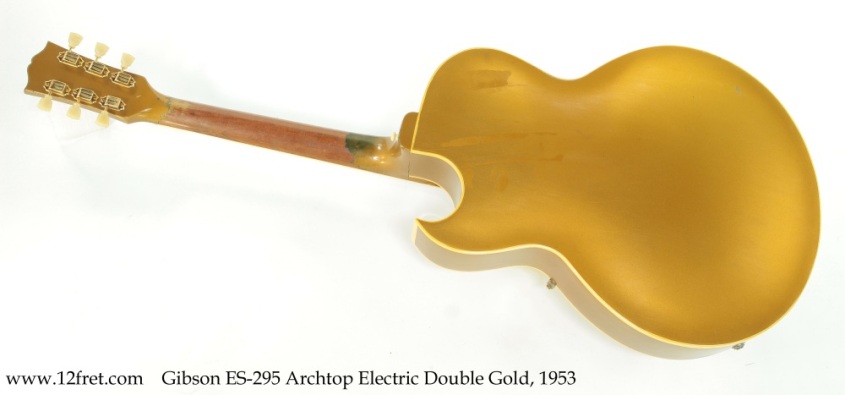 This is a wonderful rarity. Built during 1953, this is an early Gibson ES-295 in good, clean and largely original condition, showing some honest finish wear and tear from real use over the decades.
It's easy to confuse the Gibson ES-295 with the classic ES-175, and there's a good reason – they are the same guitar, but the ES-295 has a double gold finish and when introduced, two pickups instead of one. How this came to be does not follow the usual process of design and marketing exercises, and the story is worth quoting.
According to a 2015 story in Vintage Guitar magazine, in 1951 Les Paul and Mary Ford were playing at a Veteran's hospital.
"One vet, Dean Davis, had his head all bandaged up from a brain-tumor operation, and he was propped up so he could see us. He said, 'I am a guitar player, but I'll never play again because I am paralyzed down one side of my body.' " I said, 'It is possible to play with one hand,' and told him of my car accident and how I had my arm cast in plaster so I could still play."

"I asked him what song he wanted to hear and he picked a difficult one in the key of F# – 'Just One More Chance.' I turned my amp way up and I tapped out the chords with just one hand on the fretboard. Tears rolled down his face. "I told him that I would have a guitar made for him – any kind he liked. He said he would like a golden archtop.

"In the hallway, the doctor told me that his case was terminal and he probably wouldn't last one week. I called Ted McCarty at Gibson immediately and said I needed a guitar right now – take an ES-175 and paint it gold. He said he would make it and ship it directly to the hospital. There was no publicity intended; it was just a gift.

"Well, the guitar [serial number A-9196, registered in Gibson's logs on December 4, 1951] arrived, but the vet never saw it. He died shortly after we visited him. His wife received the guitar and sent it back to me with a letter explaining the vet's passing.""
Subsequently, when the finish for the new solidbody Les Paul models was discussed, Les insisted on Metallic Gold, and along with it, the Metallic Gold ES-295 went into production and the catalog during May of 1952.
While the Gibson ES-295 and ES-175 share construction details, including a 16 inch wide, pointed Florentine cutaway laminate Maple body, and Mahogany neck with Rosewood fingerboard (at the time, Brazilian Rosewood), there were some appointment differences between the ES-175 and ES-295.
Beyond the finish, the Gibson ES-295 carried the new Les Paul Trapeze combination bridge and tailpiece – but oriented correctly, with the strings wrapping over the bar, unlike the Les Paul installation. Additionally, the ES-295 had two P-90 pickups instead of one. The pickup covers were creme to match the gold, and a new matching pickguard with a floral stencil was added. In late 1957, Gibson's new humbucking pickup was introduced and added to the ES-295. The model was then discontinued during 1958.
During 1953, fresh from the Navy, guitarist Scotty Moore saw one of the new Gibson ES-295 models being put on display in a shop window, and bought it immediately. He used that guitar until mid 1955 on shows and recordings, particularly during his work with an up and coming singer and performer named Elvis Presley. Moore, however, immediately modified the ES-295, installing a Gretsch Synchro-Sonic (or 'Melita') bridge to improve intonation, and a standard trapeze tailpiece. Moore traded the 295 for a Gibson L-5CESN, which he used until moving up to a Super 400 in 1957.
This wonderful, early Gibson ES-295 is sold with a 1960's hard shell case.
---
Price: $12,999.99 CAD
Model: ES-295
Year: 1953
Finish Double Gold
Class: Vintage
Serial Number: A15936, built during 1953 in Kalamazoo, Michigan
Country of Origin: USA
Condition: Brand New
Date Posted: 07/04/2023
---
---
Including Hard case
Instrument Weight: 6.116lbs 2.78kg
Scale Length: 24.75in 628.6mm
Nut Width: 1.693in 43mm
Gibson Website
Contact The Twelfth Fret Regarding This Item