Instrument Categories: Banjos, SOLD
Note – This instrument is no longer available and is out of stock.   We're maintaining the post for historical reference purposes.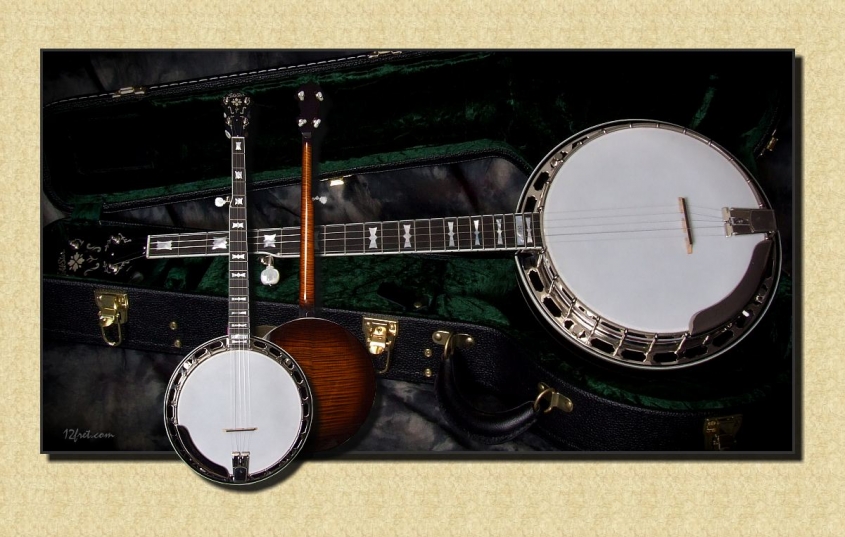 Earl Scruggs had a number of Gibson banjos: RB-75, RB-4, RB-3 and Granada banjos… but one of the more famous was an old Gibson Mastertone that had the fretboard replaced by Gibson. Earl prefers a fully inlaid fretboard and Gibson decided on the classic Bowtie inlay pattern for him.
Gold Star has issued a commemorative 1952 Flame Maple RB-4 style banjo complete with this classic Bowtie inlay and AAA Flame maple throughout. This classic pre-war style banjo has that fat Gibson "cluck" to the initial attack and huge punch and volume.
We have 2 of these fine banjos as part of an initial 2009 run of only 12 built for all of North America.
The banjo is completely setup with standard action at 5/64 and head tension tuned to G#. Fret level is carefully checked all banjos leave our shop in fully playable condition. It is strung with light gauge strings… but I would be happy to install whatever gauge you prefer and setup according to your right hand attack and action expectations.
I have been building, restoring and servicing banjos since 1977 and we have 6 full-time luthiers on staff; all the skills and expertise needed to setup your banjo to suit you. 5th string capo tacks will be installed at no charge if desired.
Note: The Twelfth Fret is one of 5 Master Dealer Deering Banjo dealers in the world. We stock Deering Banjos, Deering Tenbrooks Banjos, Vega Banjos, and Deering Goodtime banjos with over 36 models in stock.
Plus we stock a broad selection of banjos by Wildwood, Gibson, Nechville, Huber Banjos, Recording King, GoldStar and GoldTone banjos with over 100 new banjos in stock.
Price: $2049 CND with case.   NO LONGER AVAILABLE
Specifications
* Fully hand made
* Ebony fretboard inlaid with Mother of Pearl Bowtie pattern
* Finished in Nitrocellulose lacquer and stained to the classic pre-war burst
* Supplied with a true sand-cast, silicone-bronze tone ring fitted to a traditional style laminate maple rim
* Deep prewar style flame maple resonator
* Classic Gibson style 1-piece flange.
* Presto Tailpiece
* Upgraded Saga 4:1 ratio tuners.
* GoldStar vintage hardshell case, CD-1530
Check out Grant's Banjo Setup Q&A
You can preview our videos now on Our YouTube Channel!
Price: $0.00 CAD
Model: GF 200 Bowtie 1952
Year: Current
Class: New
Condition: Brand New
---
This instrument has been sold
Not Consignment
---
Contact The Twelfth Fret Regarding This Item