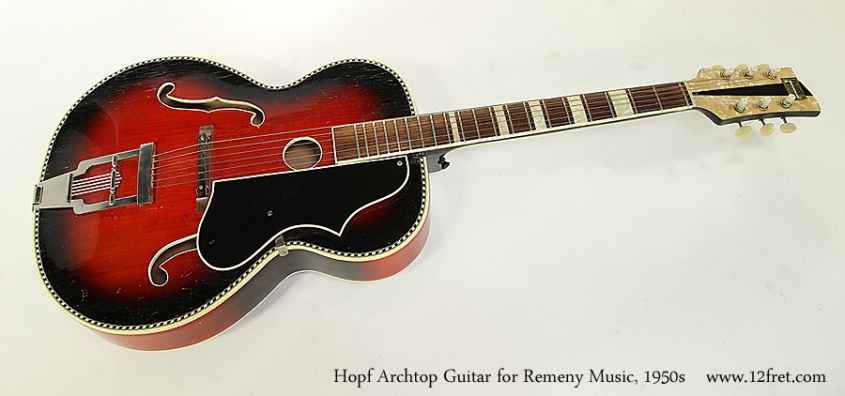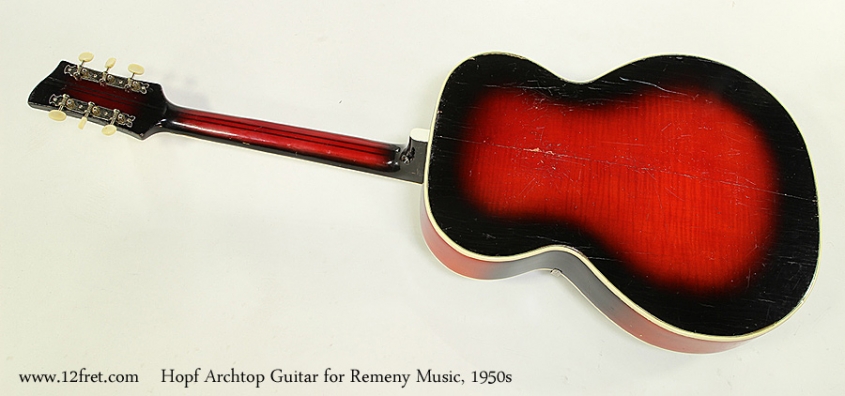 Here's an interesting archtop guitar carrying a bit of world and local history – a Hopf archtop guitar built for and imported by Remeny Music in Toronto.
There are two names associated with this instrument, Hopf and Remeny (now spelled in its original Hungarian form as Remenyi). Both have significant histories affected by European wars and trends.
Hopf has been a well-established German maker of classical instruments since 1909 with interruptions during the world wars, but in the postwar era and until the 1970s built or commissioned archtop and electric guitars. As Hopf was not really tooled for archtop guitars, many of the models they offered were built by other makers like Glassl or Klira. Serial numbers were seldom applied. Once the market for archtop guitars collapsed with the overwhelming rise of the electric guitar in the 1960's, Hopf stopped building such instruments and concentrated on classical models. Dieter Hopf, highly respected as a classical builder, is a current descendant of this family.
In 1959, as an emigree from Hungary, Zoltán Reményi opened a small music store on Queen Street West at Augusta. He came from an illustrious European background, with a predecessor Edouard Remenyi having been court violinist to both Queen Victoria and Louis Napoleon. That ancestor is also credited with what would now be called 'discovering' Johannes Brahms playing in a dive bar in Hamburg. In 1890, one of Edouard's descendants earned the title of 'Master Violin Maker' and opened a shop in Budapest, Hungary. Over time, this grew into the country's largest music house. But in the post-WW2 era and with the Communist takeover of Hungary, that business was seized by the State in 1951. As was the case for many thousands of European families, the Remenyi family was forced to move and ultimately wound up in Canada.
In 1979, after twenty years in a tiny store, Remenyi House of Music opened a rather large shop selling a full range of music and instruments including pianos on Bloor Street, quite close to the Royal Ontario Museum.
So, back to the guitar at hand. This is an archtop guitar very likely built or commissioned by Hopf in the mid to late 1950s and 'branded' by Remeny Music at 535 1/2 Queen Street Toronto. It is a full size acoustic arch top guitar featuring a characteristically German mix of sound holes, both F holes and a round hole under the strings. The top is likely Spruce with maple for the sides, back and neck, and rosewood for the fingerboard and bridge. The headstock is covered with a pearlescent plastic, and the tuners are actually re-oriented classical guitar models with larger plastic rollers. It is in overall good condition, with no structural issues, but it does have some finish scuffing and denting.
This guitar plays well, and has a decent sound. It is typically loud and perhaps brash – these were intended as rhythm instruments so they are bright and percussive. They aren't particularly rich in harmonics or resonance as neither of those are positive values for the intended purpose. In the musical context it's built for, it is perfect.
A newer tweed hard shell case is included.
Price: $1,250.00 CAD
Model: Archtop
Year: 1958 | Approximate year
Finish Red Sunburst
Class: Vintage
Serial Number: N/A
Country of Origin: Germany
Condition: Good
Date Posted: 01/02/2018
---
This instrument has been sold
Consignment Item
---
Including Hard case
Scale Length: 25in 635mm
Nut Width: 1.6875in 43mm
Contact The Twelfth Fret Regarding This Item