Instrument Categories: Banjos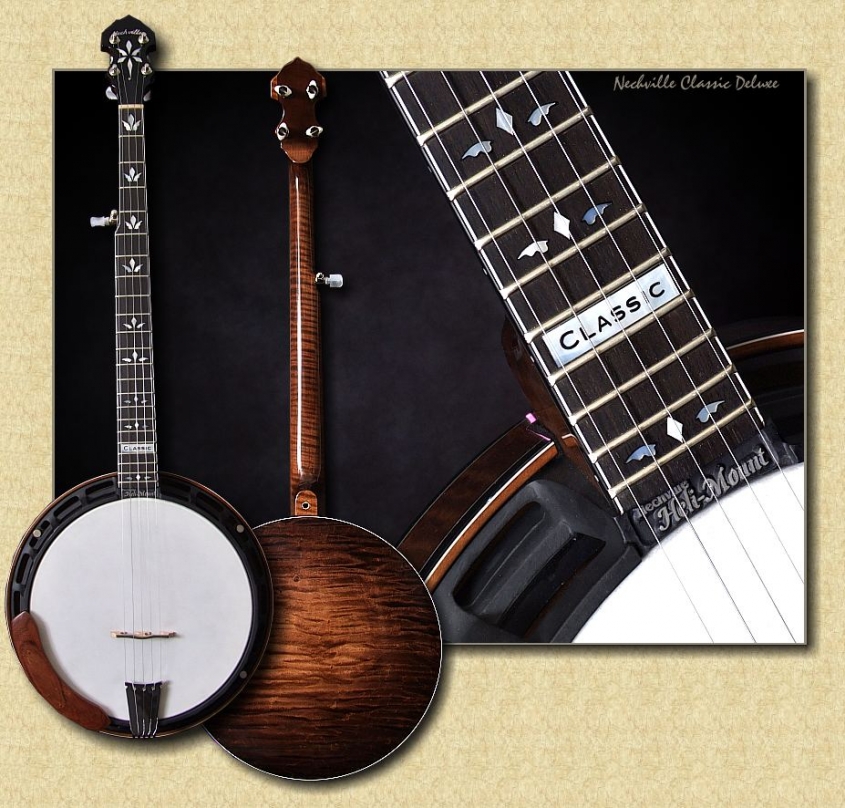 Tne Nechville Classic Deluxe Banjo comes from Nechville Musical Products, who have been in business since 1989. manufacturing professional banjos and related accessories for the booming acoustic and electric string instrument market. They have gained a respected reputation among the nation's top builders as being a leader in innovation and design. Nechville owns patents on the unique Heli-mount banjo design which has been enthusiastically accepted by some of the world's top players such as Bela Fleck and Alison Brown!
Nechville Musical Products' revolutionary one-piece cast metal Heli-Mount banjo frame replaces over seventy miscellaneous pieces of hardware used in the construction of conventional hook-and-nut style banjos. Tightening or loosening the Heli-Mount banjo head is accomplished by the simple turning of a threaded tensioning ring, which fits inside the Heli-Mount frame, rotating when one twists two Heli-Mount tensioning wrenches. Similar in operation to a jar lid, the Heli-Mount system produces perfectly even tension throughout the banjo head – in a matter of moments rather than in an all-day project!
The patented Heli-Mount frame is also the primary structural component for the Heli-Mount banjo, eliminating the need for coordinator rods within the banjo's resonating chamber. String action is easily adjusted by a simple loosening at the base of the banjo neck by the use of an Allen wrench. The Heli-Mount neck has been designed to make a solid connection with the Heli-Mount frame, and loosening the neck enables it to slide up or down along the radius of the frame – thereby raising or lowering string action. When the proper action is achieved, the neck is simply tightened back into position with the Allen wrench.
The resulting Heli-Mount banjo tone is full, balanced, and musical, due to the absence of vibrations caused by loose metallic parts and coordinator rods interfering with the inherent clarity of the banjo's tone ring. The bell brass Nechville Heli-Mount tone ring is "freely suspended" within the Heli-Mount banjo's acoustic chamber, resulting in unparalleled purity of banjo sound and projection. The Heli-Mount frame is available as an Eclipse (black) frame, a Corona (polished nickel) frame, and sometimes is even plated in gold.
Specifications for the Nechville Classic Deluxe Banjo
* Premium Striped Binding
* Radiused fingerboard
* Diamond Wing fingerboard inlay package
* intonation compensated bridge
* Highly figured maple neck & resonator
* Diamond Wing inlay
* Nechville 20 Hole Pro Tone Ring w/ Cyclotronic System
* Deluxe Hard Shell Case
---
Check out Grant's Banjo Setup Q&A
You can preview our videos now on Our YouTube Channel!
Price: $6,150.00 CAD
Model: Classic Deluxe
Year: Current
Finish Gloss
Class: New
Serial Number: Varies as New
Country of Origin: USA
Condition: Brand New
Date Posted: 18/12/2010
---
---
Including Hard case
Instrument Weight: 10.6lbs 4.663kg
Scale Length: 26.375in 669.925mm
Nut Width: 1.28in 35.51mm
Nechville Website
Contact The Twelfth Fret Regarding This Item