Instrument Categories: Banjos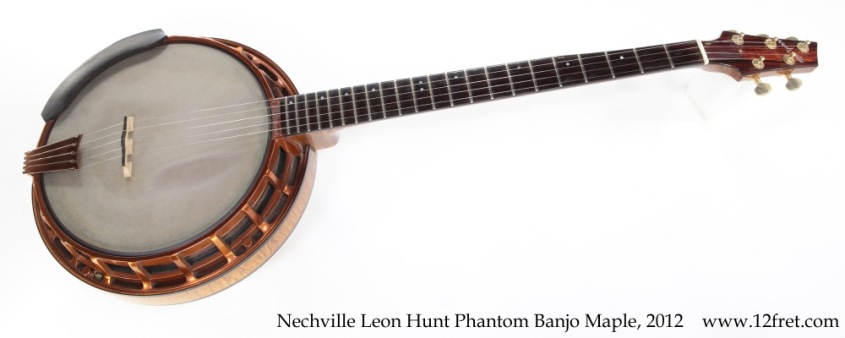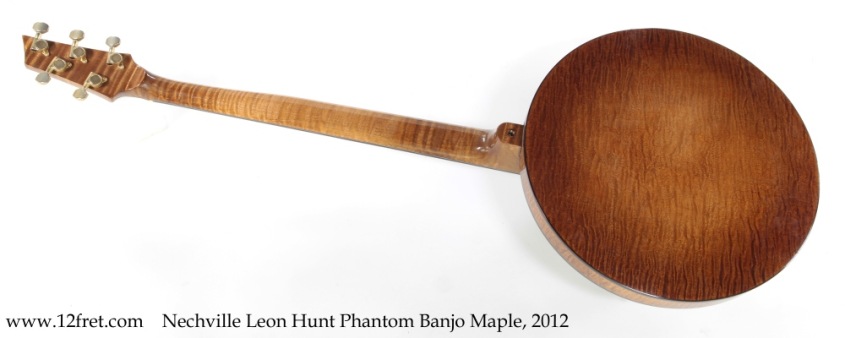 The Nechville Leon Hunt Phantom Banjo, while not a 'formal' Nechville model, is based on the Nechville Phantom XXV (Phantom 25). It uses all the Nechville Phantom elements plus very highly figured maple for the neck and resonator (rather than the stock figured walnut construction), with a slight walnut tint to the finish.
Here we're looking at a Nechville Leon Hunt Phantom built during May of 2012, in good clean and original condition with three capo tacks installed. Fret wear is light, and the gold finish on the tuners has some oxidization. And it's lighter than an average Les Paul!
This example is sold without case, but we can provide one.
These spectacular banjos are made for The Twelfth Fret and are based closely on the Nechville banjo made for Leon Hunt. Nechville features include moving the 5th string peg to the headstock and using a 'tunnel' to run the string to the gear. This gets the 5th string tuner out of the way for all hand positions.
The Leon Hunt 3-ply maple rim is fitted with a Nechville Timbr-Tronic wood tone ring, engineered from Cocobolo-wood and floating on a 9:1 ratio mix of steel and nylon ball bearings; an essential component of the Nechville Heli-mount / Cyclotronic system.
The Cocobolo wood tone ring gives the warm, fat tone of the famous Nechville 'Zeus' model. The attractive copper finish on the metal components complements the warm ocher colour of the Cocobolo fretboard and is a custom-order finish done for The Twelfth Fret.
The tuners are gold plated and the arm-rest uses Cocobolo to match the fingerboard and copper finish.
We sell the Nechville Leon Hunt Phantom new, and these can be viewed at this link.
---
Price: $2,950.00 CAD
Model: Leon Hunt Phantom
Year: 2012
Finish Pale Walnut Tint
Class: Used
Serial Number: 5-12 1588 built during May 2012 at Bloomington MN
Country of Origin: USA
Condition: Good
Date Posted: 21/02/2023
---
---
Instrument Weight: 7.882lbs 3.56kg
Scale Length: 26.378in 670mm
Nut Width: 1.314in 33.38mm
Nechville Website
Contact The Twelfth Fret Regarding This Item