In the fall of 2016, I visited the Alhambra factory in the beautiful Spanish town of Muro del Alcoy in Alicante.  The luthiers and staff of this ultra-modern facility made us feel very welcome and we really enjoyed our visit.
As you know, 2017 celebrates the 40th anniversary of The Twelfth Fret. So, what a better way to commemorate this milestone, than with the production of a 40th anniversary guitar. I'm very pleased to introduce to you The Twelfth Fret 40th Anniversary Alhambra Model 11P Exótico Limited Edition.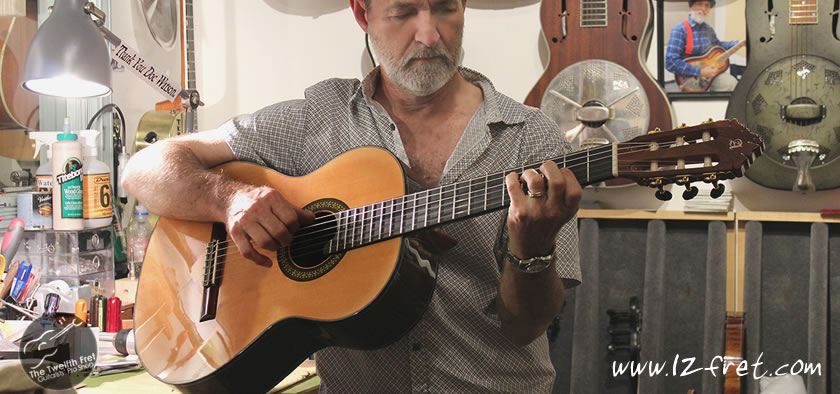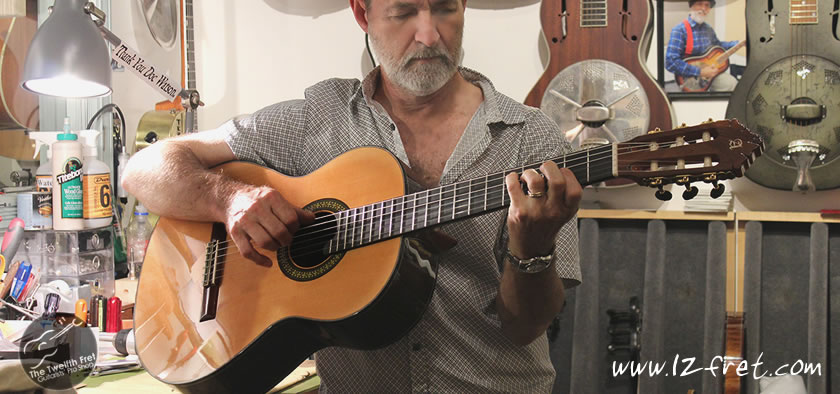 During my tour I spent some time in the wood storage facility where I noticed several smaller stacks of very rare Brazilian Red Peroba wood (Aspidosperma Peroba).  The sonic properties of Peroba are comparable to Brazilian Rosewood but there are no CITES restrictions on this wood. I mentioned that our 40th Anniversary was coming in June of 2017 and they reserved this stack of 30 sets for me. Apparently, this Peroba wood has been in storage for 25 or 30 years; they have been saving it for a special project and I was in the right place at the right time!
Price: $3150. CAD   Includes Case.
---
Alhambra Factory Tour Photos: 
The Twelfth Fret 40th Anniversary Alhambra Guitar, Model 11P Exótico Limited Edition
Master Luthier Enrique Alós was assigned the project of designing and completing the first four of these guitars.
Based on his innovative top bracing of five fans with one suspended transverse brace and using AAA Master Grade Cedar tops, Brazilian Peroba back and sides, premium Fustaro-style tuners and a lovely hand-signed label,  Enrique Alós has created a superb guitar that can truly be called the Exótico.
More About Artisan Enrique Alós
Enrique joined Alhambra Company at the age of 20. He started working at the polishing process and he learned the whole details of that work. Very soon, due to his versatility he became a valued person, moving through different works, from varnishing till final adjustments.
Based on his always positive attitude, the knowledge acquired in more than 22 years' experience and his special skills in handwork, when Alhambra required a person from its staff to lead the team of craftsmen, he was selected.
Actually, the craftsman team is making models 8P to 11P. In the last three years, besides leading the craftsmen team, he has been really involved in the  I + D projects, working closely with Jose Maria Vilaplana, Javier Mengual and José Margarit. As a result of those works, many improvements have been developed and introduced into the professional models as well.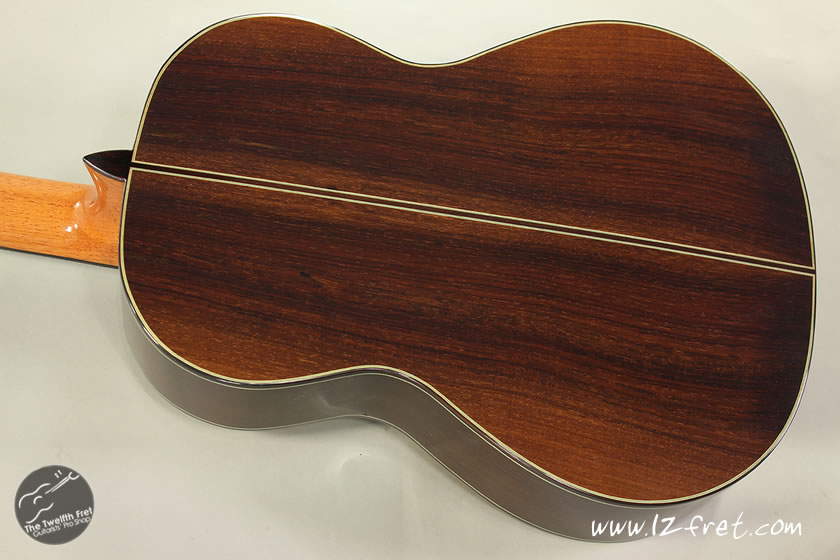 Tonally these Exótico guitars are full and well balanced, even when first tuned up to pitch; rich tone and clarity throughout the range; volume and sensitivity comparable to the Alhambra Professional models.  The exceptionally tight-grained tops will continue to "open up" as they are played, so over the first 1000 hours of playing we will hear a progressively richer harmonic-content and an increased volume.
Much thought and enjoyment has gone into the creation of our 40th Anniversary guitar. It will be a shared celebration for those owning one of our exclusive Alhambra Guitar, Model 11P Exótico Limited Editions.
And I know it will be something its owner will truly enjoy-through the next decades of our history!
---
By Grant MacNeill – The Twelfth Fret
Email for current price
Model: 11P Exótico Limited Edition
Year: Current
Class: New
Country of Origin: Spain
Condition: Brand New
Date Posted: 29/06/2017
---
This instrument has been sold
Not Consignment
---
Scale Length: 25.6in 650mm
Nut Width: 2.1in 52mm
Alhambra Website
Contact The Twelfth Fret Regarding This Item