Instrument Categories: Banjos
The Vega Tub-ba-phone banjo is unquestionably one of the most unique banjos in the history of this young and growing instrument. Touted by some as the ultimate banjo tone, it is prized for its full, round and yet sparkling tone and for its depth, responsiveness and power.
For years only affluent collectors could afford Tu-ba-phone banjos made early in the 20th century and anyone who wanted one would search and pay premium prices for these coveted instruments. Those days are gone. The new Vega No.2 Tub-ba-phone by Deering is the first of a new breed of traditional style banjos that offer all the dynamics, sparkle, power, depth, full tone and more.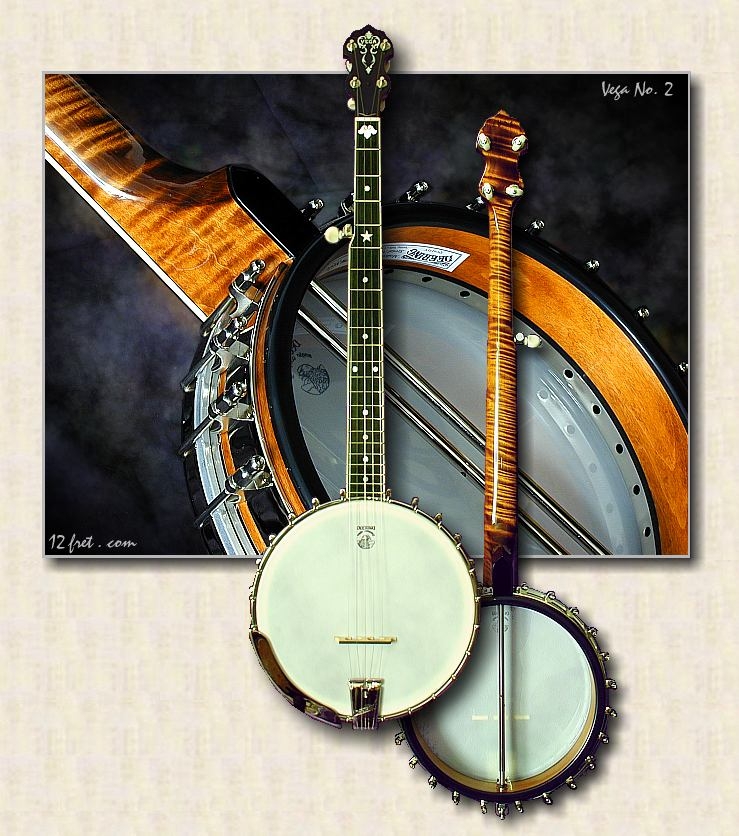 The fit and finish of this Vega No 2 Open Back Banjo is second to none and is part of the continuing evolution of this legendary heritage. This is the new golden age of the great Vega tradition. The Vega No.2 neck features a Light Amber Stain over curly maple buffed to a high gloss. The dimensions of the neck are quite similar to the early Vegas: full and yet fast and comfortable. The ivoroid bound ebony fingerboard has the classic Vega mother-of-pearl inlays. The neck is fastened to the rim with two brass coordinator rods, which allow the banjoist to adjust the string and bridge height for optimum playability for any musical style or technique. The neck is also fitted with a two-way adjustable truss-rod to enhance playability and allow the individual to tune the action of the banjo to any taste. All metal parts are nickel plated.
Whether you play ragtime, classical, bluegrass, old fiddle tunes, blues, jazz or compose your own music, the Vega No.2 offers a timeless classic reborn with traditional appearance, world renown craftsmanship, classic tone and built by the new masters of the banjo makers art. This banjo design has withstood the test of time and your new Vega No. 2 will be a coveted possession for your children, grandchildren and their children: A new legacy that continues from a long, brilliant and stellar heritage.
Specifications for the Deering Vega No.2 Banjo
* 1 9/32″ wide bone nut
* bound ebony fingerboard
* mother-of-pearl dot and star inlay pattern
* deeply flamed maple neck
* traditional Vega peghead
* adjustable truss rod
* 27″ scale length
* geared 5th peg
* double coordinator rod
* 11″ head
* 3 ply maple rim
* Tu-ba-phone tone ring
* bracket band & shoe
* nickel plated hardware
PRICING: $3989 Canadian dollars, or $3140 US dollars, based on 1.27% exchange rate.
NOTE: Exchange rates change daily!
A Deering hardshell, archtop case is included.
Check out Grant's Banjo Setup Q&A
You can preview our videos now on Our YouTube Channel!
a class="fret_table_specials" href="http://www.12fret.com/content/2012/03/09/new-banjo-setup-questions-and-answers-with-grant-macneill-video/" target="_blank"
You can now Visit our Facebook page!
Price: $3,989.00 CAD
Model: Vega No 2
Year: Current
Class: New
Condition: Brand New
---
---
Contact The Twelfth Fret Regarding This Item