After much anticipation, we've finally received our first – and one of *the* first – Godin MultiOud sample.
This new instrument represents a dramatic advance for the traditional Oud and Oud players. It features a fully adjustable neck with ebony fingerboard, 11 geared tuners, a dual pickup system and Fishman Aura Pro pre-amplifier (with built-in tuner!), and a slim chambered mahogany body with a spruce top. And it sounds great!
We'll be featuring this instrument in detail soon, but here are a few advance photos.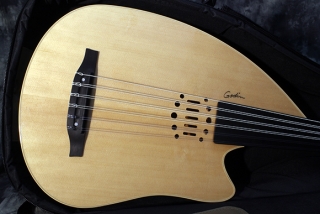 You can preview our videos now on Our YouTube Channel!
You can now Visit our Facebook page!