The first time I ever encountered a Jazzmaster in person, it was in the hands of a great guitarist by the name of Stan Gadziola, who was one of two guitarists slinging their axes in the service of an amazing R&B band called Sounder. They played around the Georgian Bay area in the 1980s, and I managed to misspend a fair chunk of my misspent youth at their gigs. I thought the Jazzmaster was just about the coolest looking thing on the planet, especially in an era that was overpopulated by Kramer and Charvel wannabes.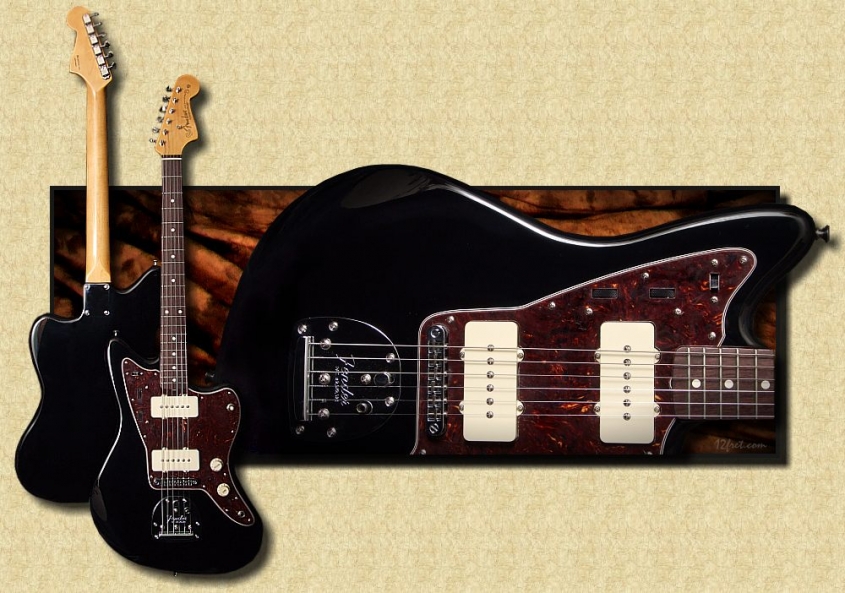 While watching Stan play, I noticed that he would often reach back by the bridge and make some funny little gesture with his pinky, almost like he was flicking an invisible toggle switch or something. One night after a Sounder gig, I asked Stan why he was making that odd gesture and he matter-of-factly informed me that it was because his high E string would always pop out of the saddle. He said it was just the way Jazzmasters were designed, and he'd thought of installing a Tune-O-Matic, but the radius wouldn't be correct, and besides he was used to it after having played the guitar for so many years. We agreed that it was too bad Fender hadn't come up with a more rugged bridge design.
Fast forward to now, and as I sit here at the computer, I have one of Fender's new Classic Player Jazzmaster Specials in my hands. Not only did they upgrade the bridge to a Fender Adjusto-matic model, but they've made the pickups a bit hotter too. This guitar still has the "warm but clear" tone that Jazzmasters are known for, but it hits the front end of your amp just a little harder for an extra bit of attitude. Nice.
Which leaves me in a bit of a dilemma. Should I fulfill my adolescent dream and finally buy a Jazzmaster now that they've fixed the saddles, or should I try to track down Stan and tell him about this guitar?
Feel free to make it a moot point by buying it for yourself before I decide…
Specifications
* Polyester Finish
* Alder Body
* Maple "C" Shape Neck
* Rosewood Fingerboar, 9.5" Radius (241 mm)
* 21 Medium Jumbo Frets
* Special Design Hot Jazzmaster Single-Coil Pickups (Neck & Bridge)
* "Lead" & "Rythem" Circuits
* Adjusto-Matic™ Bridge with Vintage Style "Floating" Tremolo Tailpiece and Tremolo Lock Button
* Fender®/Ping® Vintage Style Tuning Machines
* Chrome Hardware
* 4-Ply Brown Shell Pickguard
* 25.5" (648 mm) Scale Length
* 1.650" (42 mm) Nut Width
* Medium Jumbo Frets
* 9.5" Radius
* Screw-In Tremolo Arm
* Includes Gig Bag