This new Tubaphone style open back is a welcome addition to an already impressive line of banjos by Gold Tone. Here's what Chuck Levy had to say when he reviewed it.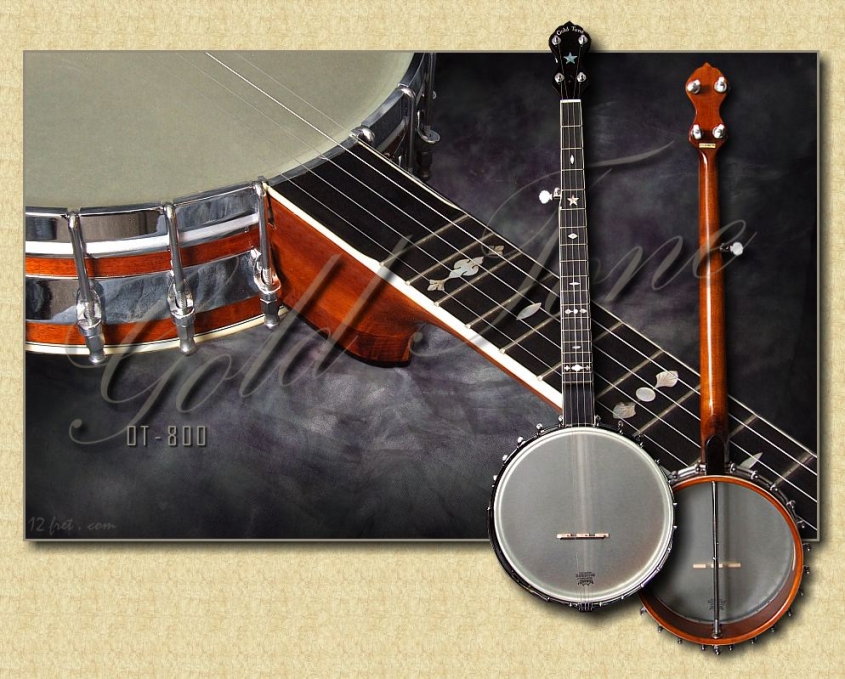 "The inspiration for the OT-800 is the classic Vega Tubaphone banjos of the early 20th century. The Tubaphones, introduced in 1909, featured a distinct perforated tubular tone ring (hence "Tubaphone") with a rectangular cross section. This tone ring was the successor to the Whyte Laydie tone rings, and produced a more bold tone than its predecessor. Like the Whyte Laydies, the tubaphones featured a bracket band, a metal band which runs along the waist of the rim, and to which the brackets connect. Bracket bands eliminate the need for hardware (nuts/screws) to clutter the interior of the rim, and add mass to the pot. The OT-800 features a tubaphone-style tone ring, and a bracket band, but is not simply an imitation of the classic. The rim, with a height of 3 inches, creates a deeper pot than the standard, while the thickness of the pot at approximately ¾ of an inch, is reminiscent of the early Whyte Laydies. The neck of the OT-800 departs from the deeper "V"- shaped contour of the original, which grew gradually thicker towards the heel. The OT-800 necks sport a more rounded profile with a constant depth as it approaches the heel."
"While the Tubaphone assembly dictates the sound, the aesthetics of the OT-800 actually hearken to earlier Fairbanks and Fairbanks and Cole instruments of the turn of century. The headstock has a figure-of-8 shape as it approaches the peak, and is adorned with an etched star in the center. The truss rod cover is hardly noticeable, inset into the headstock just above the nut. A second etched star marks the 5th fret, with further etched inlays at the 7th, 12th and 17th positions, culminating in a scoop at the end of the fingerboard. The A glossy finish completes the neck. Taken together, the OT-800 successfully integrates classic and modern elements to create a 21st century tribute to the first golden era."
Specifications
* 1 3/16″ wide bone nut
* 26 3/16″ scale length
* bound ebony fingerboard
* fingerboard frailing scoop
* engraved Vega style fingerboard inlays
* GT Master Planet tuners
* 1/2″ sound chamber rim
* Tubaphone style tone ring
* Vega style arm rest
* 11″ Renaissance High Collar head
* No Knot tailpiece
* double coordinator rods
* metal bracket band
Check out Grant's Banjo Setup Q&A
You can preview our videos now on Our YouTube Channel!