In the morning we made our way over to the Gibson shop. It's located in an unassuming building in Bozeman, Montana, at 1894 Orville Way. By an odd coincidence, 1894 is also the year Orville Gibson went into business.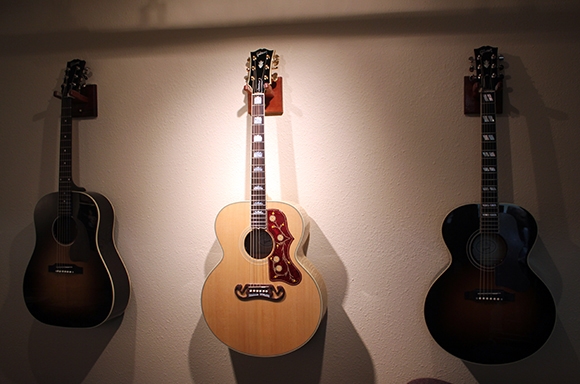 After an introductory meeting, we headed down to the shop floor. First stop is at the back, where the basic sets are prepared. First are the top and back sets, which are joined and thicknessed, and the tops have their rosettes installed.

Neck blanks are rough-shaped on a CNC router, and headstock veneers and basic logo inlays are prepared.
Moving along, after being soaked for a time in a special bath, sides are bent on huge bending irons. Once off the irons, kerfing is installed, blocks are added and the body shells are stored in forms.
Now we're off to the section where tops are created. there are some special features here: the tops and backs are curved, and a vaccuum jig sucks the top or back down, braces cut to the curve are added, and a membrane covers it; the vaccuum locks the struts in place. The same process is followed for the backs.
Next we move on to mating the back and sides to the body shell.
We're going to stop here for a moment, because there's still much more to come and there's an early start tomorrow! Come by again; we're heading towards the more colourful images.
Join us in Part 3 of The Gibson Acoustic Shop Tour!
---
You can preview our videos now on Our YouTube Channel!
You can now Visit our Facebook page!