NOTE: These instruments are no longer available, and this post is maintained for historical purposes. Current production of Gibson mandolins is limited due to lingering effects of the devastating 2010 floods in Nashville.
---
The season of the summer jams is here, and Gibson Original Acoustic Instruments kicks off the pickin' and grinnin' around campfires and festival sites across the country with the introduction of the new Jam Master Series line of mandolins. Both models in the new series – an A-style and an F-style – focus on a no-compromises approach to tone and playability, while easing back on the trimmings to provide a roadworthy Gibson mandolin at an attractive price. The Jam Master A- and F-style mandolins descend straight out of hallowed Gibson tradition, but offer two accessible new options to the player who wants to get their jam on, in whatever setting, with whatever kind of music.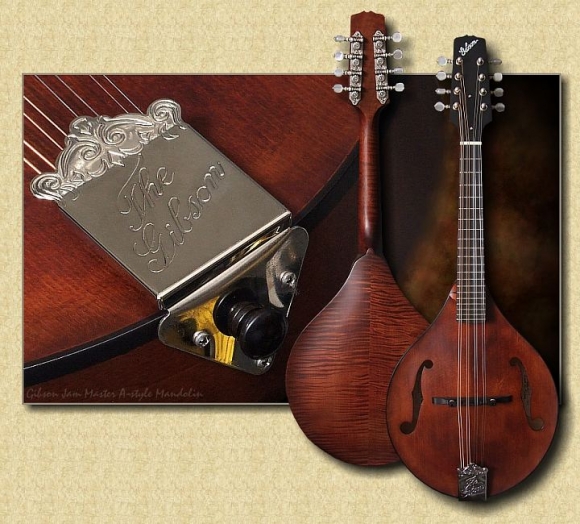 Stripped-down appointments on each of these new, traditionally-styled mandolins offer a simple yet elegant look, while making way for the performance-enhancing elements that players of the Jam Masters will certainly appreciate. F-holes remain unbound, there's no neck or headstock binding, no position markers on the fretboard (side dots only), and no inlay on the peghead, just the timeless Gibson logo decal. All the notable luthiery features you do find, however, are in the tone and playability departments.
Each model features a top carved from solid spruce, trimmed with simple single-ply black binding contrasting its Sheraton Brown satin lacquer finish, and married to figured maple back and sides. The figured maple necks are carved to the popular "rounded V" profile, with a 1 3/16″ width at the nut providing enhanced comfort and finger room across the radiused ebony fingerboard. The 20-fret neck has 13 frets clear of the body, with frets that are a little bigger than the traditional frets on vintage mandolins, a modification that improves fingering for many playing styles, and one that many contemporary players really appreciate.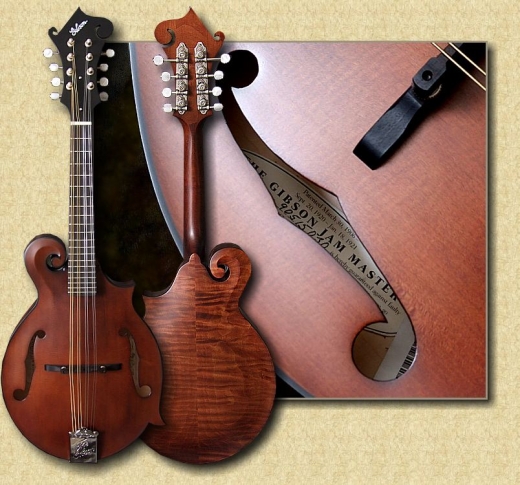 Advanced constructional features such as Gibson's time-tested tone bar bracing, a radiused dovetail neck joint, and a genuine bone nut partner up to enhance resonance and projection on both models. An adjustable two-piece ebony bridge and nickel Grover tuners round out each package. The result is a pair of mandolins that offer a high-performance tonal palette, from crisp, punchy chords to sweet, articulate single-note riffs, all with a richness and resonance that rings true to the Jam Masters' origins.