Presenting the Gold Tone Bob Carlin BC-350 Banjo!
At the 2004 IBMA show, Bob Carlin and Wayne Rogers met to discuss the possibilities of a signature model 12″ banjo. The basic features requested by Bob were a 12″ pot, scooped fingerboard, specific neck dimensions and brass tone ring. These features were previously only found on banjos retailing for $1200.00 or above!
Bob personally made a trip to the Gold Tone facility in Florida for the designing of this unique new custom instrument. For two days, Wayne and Bob discussed every possible spec and tested prototypes. Every detail was fine tuned. In order to complete the project, Gold Tone invested in all new 12″ tooling to assure perfectly fitted parts! The result of all of this hard work is the new Gold Tone BC-350 Bob Carlin signature frailing banjo!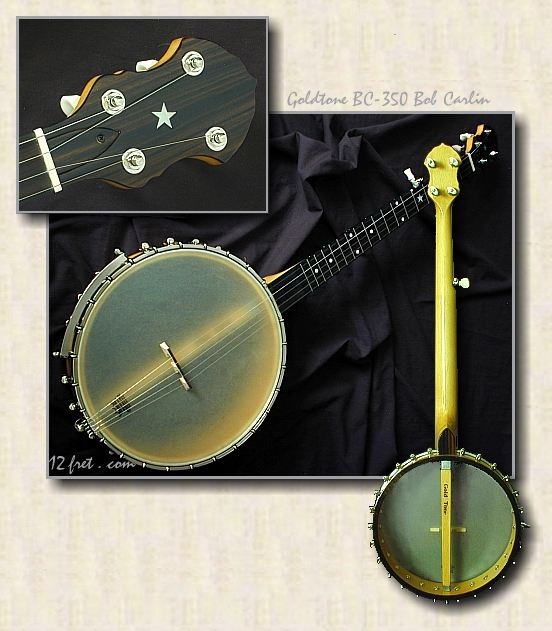 Specifications
* 1 3/8″ wide nut
* ebony fingerboard & heelcap
* fingerboard scoop
* mother-of-pearl dots and star
* Planetary tuners & geared 5th peg
* 26 1/2″ scale length
* adjustable truss rod
* 12″ maple rim
* rolled brass tone ring
* modified dowel stick construction
* "Hot Dog" arm rest
* ball end bracket nuts
* No Knot tailpiece
* Renaissance head
* available with optional resonator


Click Here to read our feature on the GoldTone Signature Series Bob Carlin BC-350 Plus Banjo!

Check out Grant's Banjo Setup Q&A

You can preview our videos now on Our YouTube Channel!