The door opened the other day, and in came a brand-new Gretsch 6118 LTV, an Anniversary model in a smoke green lacquer. ML bracing, locking tuners, TV Jones pickups, and a really great feel – this is an exceptional guitar.
NOTE: This instrument has been discontinued and is no longer available from Fender or Gretsch. This post remains for historical purposes only.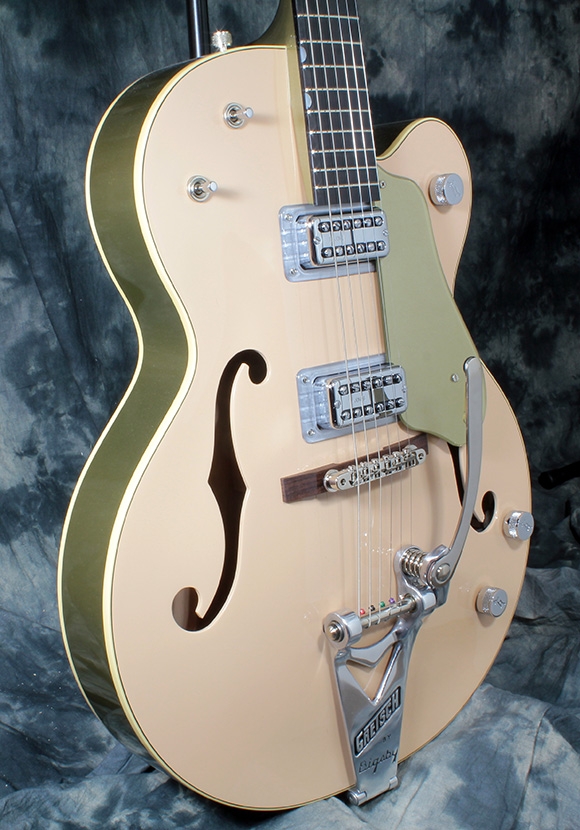 Serial Number
JT 1030843
Pricing
$4129.99 Canadian Dollars with Gretsch hardshell case.
Neck
Maple neck with unbound Ebony fingerboard and neo-classic markers.
Frets
22 medium frets.
Body
Maple laminate body, bound. ML bracing!
ML bracing is a blend of soundpost and trestle bracing; there's an L-shaped addition to the struts that stiffens the guitar and couples the top and back. Trestle bracing is essentially C-shaped with two supports, the second in front of the neck pickup. Both systems reduce feedback while allowing the guitar body to resonate.
Finish
Two-tone lacquer finish. The back, sides, and neck are a metallic smoke green, the top is a pale cream, "Jaguar Tan".
Hardware/electronics
TV Jones Classic pickups, Sperzl locking tuners, pinned Adjusto-matic bridge on a rosewood base. Master volume, individual volumes, pickup selector, mud switch. V-cut Gretsch Bigsby B-6c
Playability/Action
This guitar plays so well and sounds so good, it's unclear to me why it hasn't followed me home.
Case
original Gretsch hardshell case
Comments
This is a really great example of Gretsch production, modern or vintage. Anniversary models are very much the same as 6120's without binding on the F-holes, neck or headstock, for a lot less money.
---
You can preview our videos now on Our YouTube Channel!
You can now Visit our Facebook page!