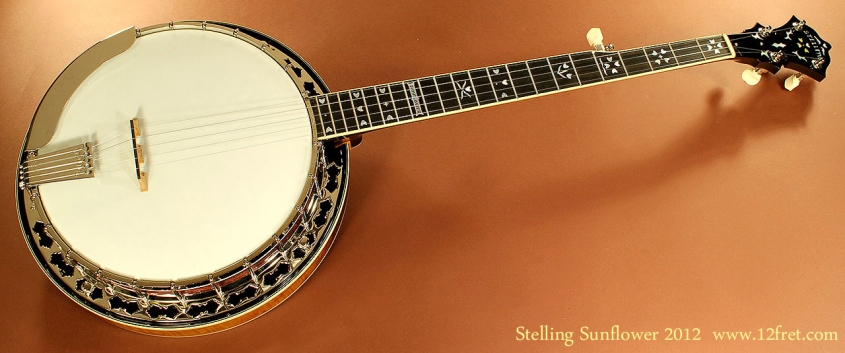 Comments
Here we have the Stelling Sunflower Banjo, another superb example of Geoff Stelling's superb craftsmanship and creativity.

Based on the very successful Stelling Bellflower Banjo , the Stelling Sunflower banjo features AAA-grade flame maple construction rather than Virginia Black Walnut; this provides a somewhat brighter tone with a more defined attack. The shaded 'Cremona' style sunburst finish pairs very well with the flamed maple.

We were thrilled to renew our dealership with Stelling and now carry three models as standard stocking representation of these fine banjos.

Stelling established themselves as a benchmark in modern banjo construction with a unique approach to tone ring to rim construction that ensures maximum ring to rim contact for full tonal transmission.

Stelling engineered their own uinique heavy centrifugal cast bronze flange and machined tailpiece to create THE classic Stelling banjo sound.

Serial Number
Varies as new. Built at the Stelling Banjo Works shop on Banjo Lane in Afton, Virginia, USA.
Pricing
$5895 CND with Stelling hardshell case.
Neck
AAA-grade curly maple neck with bound ebony fingerboard.
Frets
23 standard Banjo profile – narrow – frets.
Body
Curly maple with nickel plated metal components, and the Tony Pass 600TS Old Wood Rim..
Finish
Gloss sunburst finish.
Hardware/electronics
Nickel plated tuners and metal parts. The heavy centrifugal cast bronze flange and machined tailpiece are custom engineered by Stelling.
Playability/Action
Stelling banjos play very well as shipped, and we will of course set the banjo up to the requirements of the player.

Please follow this link to view a video of Grant MacNeill discussing banjo setup!

Case
Distinctive Stelling hardshell archtop 'Canadian' case by TKL included.
---
You can preview our videos now on Our YouTube Channel!
You can now Visit our Facebook page!
Check out Grant's Banjo Setup Q&A