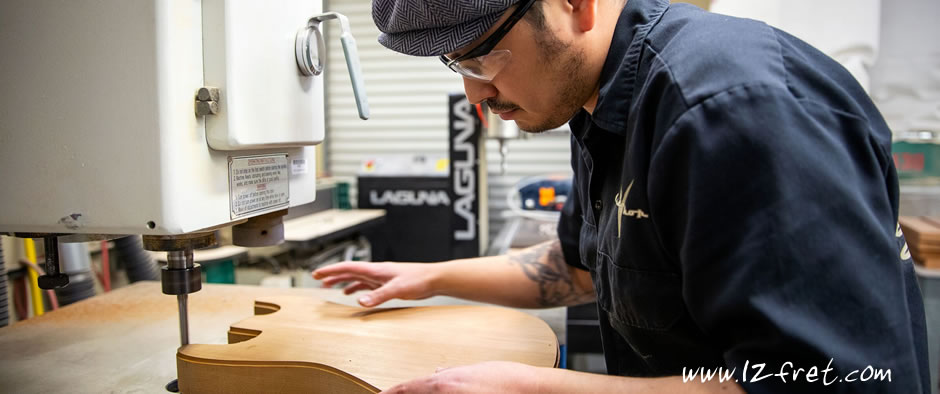 A new Master Builder joins the Fender Custom Shop: Carlos Lopez. With decades of experience in guitar luthiery, he's worked on countless designs during his four years as an Apprentice Master Builder under esteemed Fender Master Builder Todd Krause.
"Masterbuilt Fender Custom Shop guitars are in more demand now more than ever, which explains why we've added three new Master Builders since 2018," said Mike Lewis, VP of Product Development at Fender Custom Shop. "Our apprentice program continues to foster some of the best up-and-coming builders in the business, and Carlos Lopez was always a standout throughout his time working for Todd Krause. We're eager to see all the dream guitars he'll build for players around the world."
Lopez Becomes 12th Fender Custom Shop Master Builder, One of Three Added Since 2018
Carlos Lopez is no stranger to the Fender Custom Shop. After graduating from the Musician's Institute's Guitar Craft Academy in 2007, he earned a full-time position on Fender's production line and was later called to join the Fender Custom Shop. Lopez brings a comprehensive understanding of the business to his work, having served in nearly every position in the Shop—including tune testing, relicing and fretwork—until he was promoted to an Apprentice Master Builder for Todd Krause. With Krause, he worked hand-in-hand on high-profile projects for top artists, including Eric Clapton, Jeff Beck, Robbie Robertson and Robin Trower.
"I have had the opportunity to learn and be mentored from the best of the best throughout my professional career," said Carlos Lopez, Master Builder at the Fender Custom Shop. "I can't put into words how special it is to be a part of such an iconic brand with some of the finest builders in the world."
In his new position as Fender Custom Shop Master Builder, Lopez is looking forward to having creative control to bring his ideas to life, and then revealing them to the world at NAMM 2020.
---