Guitar Clinic with Mike Francis and Neal Davis at The Twelfth Fret
Where: The Twelfth Fret Guitar Shop, 2132 Danforth Ave, Toronto ON.
When: Monday March 3rd MARCH 3rd, 6pm – 8:30p
Price: $40 per person (limited space available)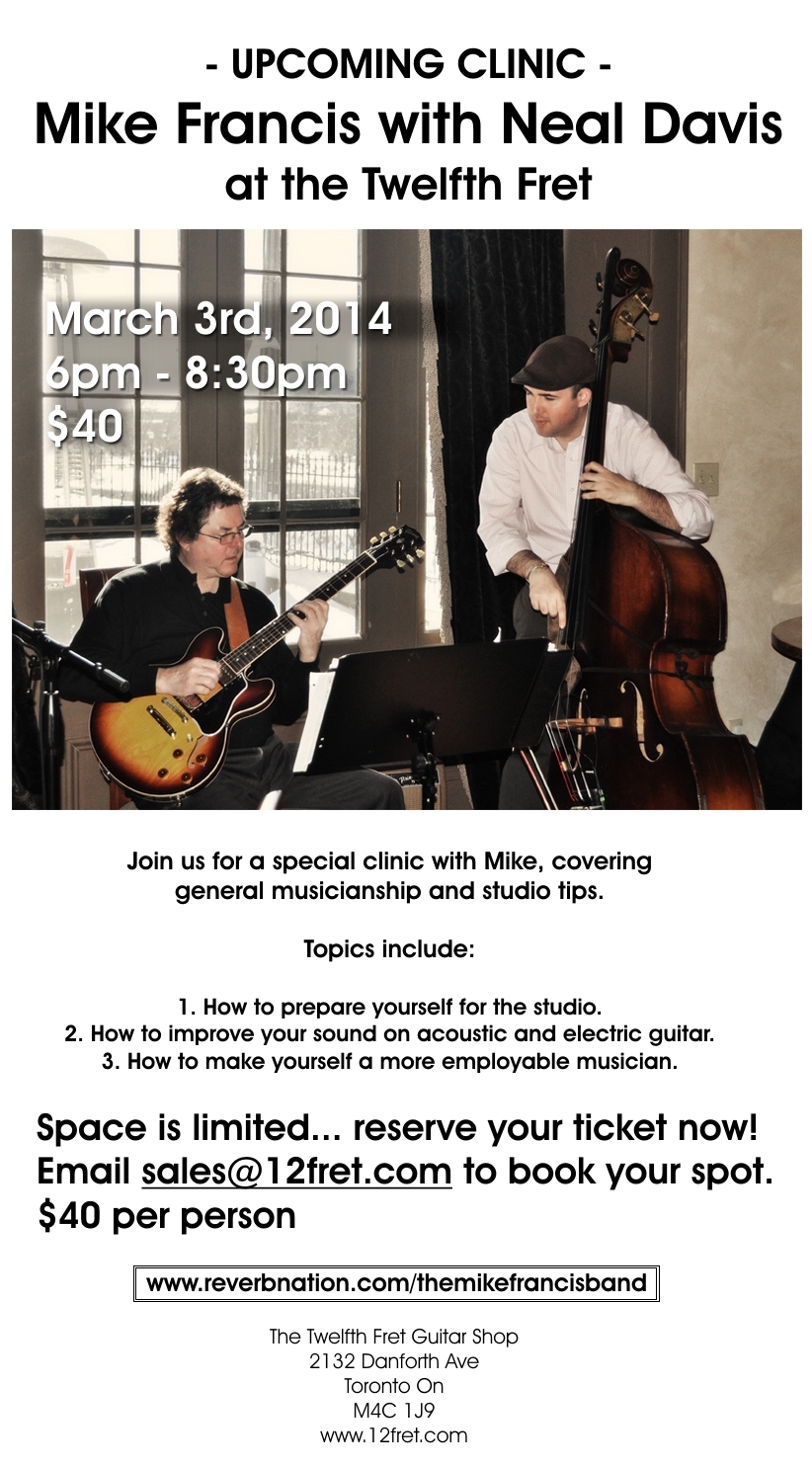 If you've been in Canada in the last 30 years, you've heard Mike Francis play. He's been in uncountable sessions and stages for many musicians, movies, TV and radio shows, and commercials. Here's a great opportunity to find out how a top session player approaches the guitar, recording, performing, and the business. It doesn't matter what your current skill level is – you'll learn something valuable and entertaining. Don't miss it!
Mike Francis has been the "go to guy" in the Toronto recording scene for over 30 years. His guitar playing can be heard daily on numerous TV & radio commercials, TV shows, feature films and the recordings of many prominent Canadian singer/songwriters.
A partial list of recording artists he has worked with include Marc Jordan , Nelly Furtado, Jann Arden, Anne Murray, Gordon Lightfoot, Alanis Morissette,  Enrique Iglesias, Doug Riley, Daniel Lanois, and many others.
Mike will illustrate in a musical context many of his techniques for playing simple passages in a variety of interesting and creative fashions: a prime key to his lifetime success as one of Canada's busiest session players. Whether you are an advanced player or simply a weekend warrior,  any musician will find Mike's low-key approach and practical advice to be useful in countless ways.
Space is limited to contact us to reserve your ticket!