Fender Musical Instruments Corporation (FMIC) released the JMJ Road Worn Mustang Bass, the latest addition to the Fender Artist Signature Series that debuted at Summer NAMM 2017. Evocative of JMJ's (Justin Meldal-Johnsen) versatile music background, the bass is modeled after his own vintage 1966 Daphne Blue 4-string Mustang Bass. Often working behind the scenes, JMJ has used his prized Mustang Bass and diverse talents – from playing to producing – to make a big impact on the modern rock genre in collaboration with countless acclaimed artists. The JMJ Road Worn Mustang Bass project was inspired by JMJ's constant pursuit of new ideas and sounds, as well as an instinct to piece together multiple components to build something meaningful. The result is an artist signature model that epitomizes the features and tone JMJ loves about his original Mustang, giving him the chance to share it with bass buffs everywhere.
Latest Addition To Fender Artist Signature Series Embodies Vintage-Inspired Tone, Look And Feel of JMJ's Treasured '66 Mustang Bass
A Los Angeles native, JMJ has toured for years playing with many acts, namely as the bassist for many of Beck's most notable records and tours. JMJ has a remarkable track record as a session and touring musician for dozens of artists like Air and Nine Inch Nails, as well as a producer and collaborator for artists like M83, Frank Ocean, Paramore, Blood Orange, Jimmy Eat World, Goldfrapp, Edward Sharpe and the Magnetic Zeros, Tegan and Sara, Ladytron, Young the Giant, Tori Amos, Garbage, Wolf Alice, School of Seven Bells, Cass McCombs, Charlotte Gainsbourg, and The Naked & Famous – often wielding his treasured '66 Mustang Bass, as an immediate extension of his body and musical voice onstage and in-studio.
"As a player and producer, I feel strongly about the unique timbre, functionality and pure fun of short-scale instruments, specifically the Mustang, and more specifically my '66 Daphne Blue, which is a pretty special one," he added. "I've gravitated to it more and more over the years, recognizing how good of a sonic 'fit' it has in a modern music context. So, it was pretty cool to have that instant meeting of the minds with the Fender people and us all to go 'yep! now's the time!' And here we are. The team at Fender was amazing. We left absolutely no stone unturned, and it came out great."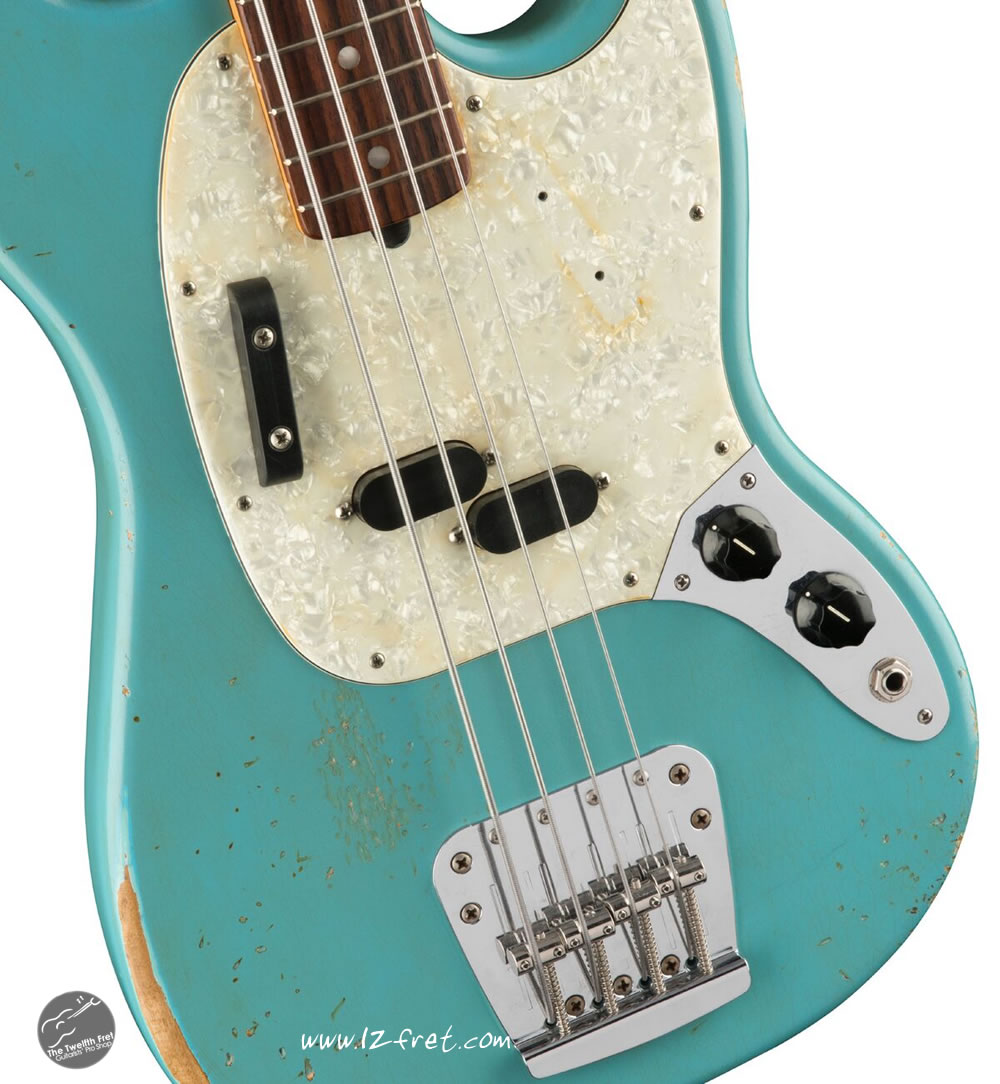 The JMJ Road Worn Mustang Bass highlights the resurgence in popularity of offsets. Originally crafted by Leo Fender as a student model, respected professional musicians like JMJ have gravitated toward the offset bass as a roadworthy tool suited for both studio and on-stage gigs.
"Fender has enjoyed a close relationship with JMJ for about 20 years – from his work with Ima Robot, Beck and Nine Inch Nails, to his current role as an in-demand producer," said Justin Norvell, SVP Fender Products. "He not only possesses amazing musical chops, but also has insanely detailed ears. His original '66 Mustang Bass was his go-to instrument, so we were interested in what made it special to him and sound so unique. Although the Mustang bass was once thought of as a student model, this bass is anything but that! We were able to aesthetically and tonally distill what made JMJ's bass tick, and are honored to have worked together to bring this Road Worn Mustang Bass to the world!"
The JMJ Road Worn Mustang Bass is equipped for a variety of musical settings, and features a vintage-style look and feel. The road worn aspect recreates the wear of the original, while the old school hardware, thumb rest and lollypop oval-shaped tuners all evoke 60s Fender nostalgia. Designed for comfort and speed, the bass is powered by a custom-spec split-coil pickup, 30" scale, and modern 9.5"-radius fingerboard.
MORE ABOUT JMJ Road Worn Mustang Bass
Known as a true renaissance man of the modern music scene, Justin Meldal-Johnsen's bass credits range a variety of top artists across genres. From studio to stage, Justin's treasured '66 Mustang Bass is his tool of choice. Fender has teamed up with him to create a signature 4-string modeled after his vintage Daphne Blue instrument—the limited edition JMJ Road Worn Mustang Bass. Powered by a custom-spec split-coil pickup, the JMJ Road Worn Mustang bass is perfect for playing punchy, melodic bass lines. The 30″ scale gives it a tight, focused tone while the modern 9.5"-radius fingerboard with rolled edges offers a familiar feel that will make any bassist feel right at home. Designed for comfort and speed, this bass also has stage-ready style.
---