The Tech 21 Fly Rig 5 is a great sounding feature packed portable amp and pedal solution for guitar players. This small and stylish unit weighs in at just over 18oz and 12 inches in length. That means you can easily fit the Fly Rig 5 into your gig bag and away you go. At the core of this unit is the analog Tech 21 sansamp which simulates the amp, speaker and microphone and allows you to dial in your basic low, middle and high equalization along with drive and level to create your favourite amp sounds. The Sansamp section also has a lush sounding Reverb effect to give you more depth to your sound.
Ok so you have the amp covered now what about those essential guitar pedals like overdrive boost and delay? You guessed it those are there as well. The overdrive section is based on the classic Marshall Plexi sound that many people are familiar with from countless rock records. It has level tone and drive controls and a level boost control labeled hot with its own foot switch. This lets you dial in a basic amp sound and then switch to the Plexi setting for crunch and hit the hot boost for a solo. It is fairly similar to having a two channel amp with a boost pedal. You can go from clean to crunch to boosted solo or set it up for crunch, more crunch and boost. That kind of flexibility will cover the needs of most guitar players.
Top it off with the DLA section and you get a great sounding analog style delay effect. This section has a on off switch and tap tempo button so you can tap in the timing of the delay repeats with your foot. It also features standard controls for a delay effect like level, repeats and time. The secret weapon of this effect is the drift control which lets you dial in slight detune or chorusing on the delay for more ambient textures.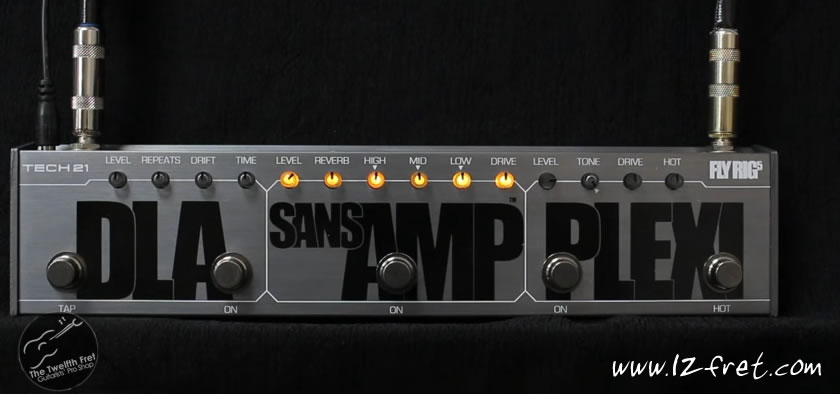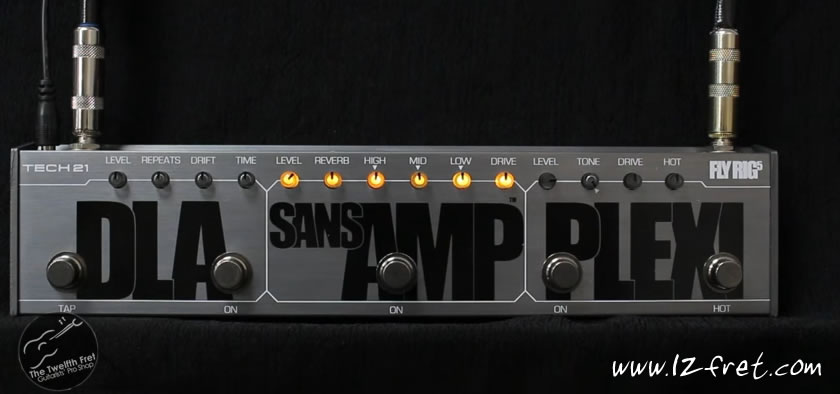 This unit is designed to be primarily a replacement for your amp and essential pedals and works really well when run directly into a PA system. However, it also sounds great as just an overdrive, boost and delay pedal in front of your favourite amp. If you're a gigging guitar player this is a great backup for your rig in case your amp and pedals go down.
The amazing portability and great sounds packed into the Fly Rig 5 make this a must have for hobbyists and pro players!
Mike Gray, The Twelfth Fret
---
Save