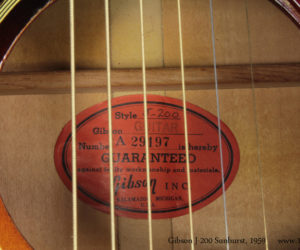 Here's a wonderful 1959 Gibson J-200 Sunburst.
Gibson introduced the J-200 in 1938 as the top of the line. It was originally named the Super Jumbo, then in 1939 renamed the Super Jumbo 200, and in 1955 got its current name. Because of its position at the top end of Gibson's line, production quantities have never been high.
This example is in excellent structural condition and is very clean and glossy. It's had some maintenance over the years, including a refret, and is ready for many more years of use.
MORE

→