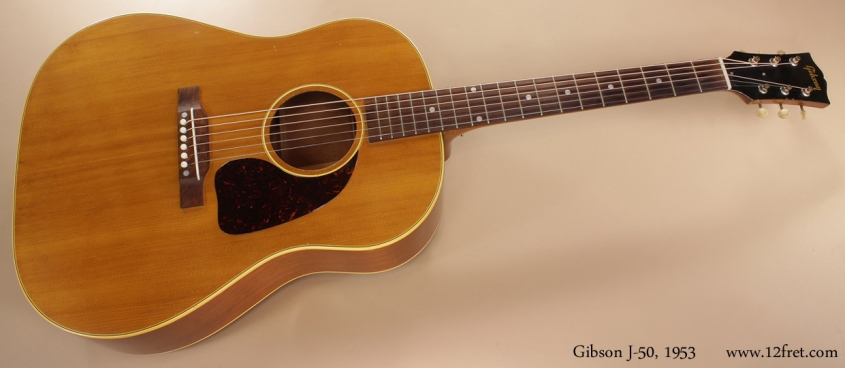 My first reaction on playing this guitar, translated for publication, was 'Wow!' (though in truth, perhaps it was a few other words, heavily capitalized and bolded). This J-50 demonstrates very clearly why Gibson flat-tops are so desirable. This 1953 Gibson J-50 has obviously been used as the makers intended, and has had the service that any 60-year old might need. And the sound is incredible! Full, bright, LOUD, crisp and even, this guitar has exceptional tone and would be a very positive addition to any track.
Gibson introduced the J-50 in 1947. It's a J-45 with another name and a natural finish instead of a sunburst. The sunburst was partly used because the shading hides a lot of the wood, and during the depression and wartime high-visual-quality woods were not easy to come by.
Serial NumberY 6899 26 Built during 1953 at the Gibson plant in Kalamazoo, Michigan.Pricing$3,999.99 CAD with newer case.NeckMahogany neck with unbound rosewood fingerboard.FretsSome wear, particularly in the lower positions, on a refret. There's years of use left in these frets.BodyClassic J-style body with spruce top and mahogany back and sides. Rosewood bridge. The J-45 and J-50 share the same body design and construction, with only the finish being different.FinishGloss nitrocellulose lacquer finish. The finish is partly original, the back has been professionally redone following crack repairs with some shading towards the neck joint.Hardware/electronicsOriginal plate-mount Kluson type tuners with creme plastic buttons – these buttons are deteriorating, as they do. Strap pin added to heel. Stew-Mac PlateMate installed to suppport the bridge plate.Playability/ActionThis instrument has received the work that guitars of a certain age need, and it plays very well. And the sound is incredible!CaseNewer hardshell case included.
---
You can preview our videos now on Our YouTube Channel!
You can now Visit our Facebook page!