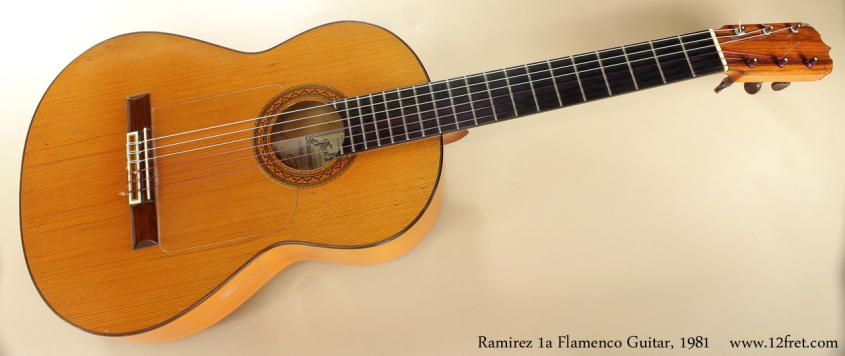 Comments
The Ramirez 1a is the top of the range for concert instruments, in classical or Flamenco styles. Built only by a few of the most skilled and experienced luthiers in the small Ramirez shop, the 1a uses the finest available materials.

The modern Flamenco guitar was developed close to the end of the 19th century largely by Jose Ramirez I and his brother Manuel, as a 'tablao' instrument. The term 'tablao' refers to the floorboards of the halls used for flamenco shows, in which the floor is used as a percussion instrument. The Ramirez design, intended for brightness, percussion and volume has been developed only slightly since then, notably with the optional addition of 'standard' geared tuning machines rather than friction pegs.

This 1981 Ramirez 1a Flamenco guitar is in good playing condition, though it has had a number of top cracks repaired in our shop.

Serial Number
15135, built 1981 at the Ramirez shop in Madrid, Spain.
Pricing
$3,750.00 CAD with Mark Leaf case. NO LONGER AVAILABLE
Neck
Spanish Cedar neck with ebony fingerboard. Solid peghead with traditional friction pegs. 656mm scale length, 52mm nut width.
Frets
Original frets with minor wear; nylon strings don't wear frets down as steel strings do.
Body
Ramirez 1a body construction, with Cypress back and sides and cedar top. The top has several cracks, all of which have been repaired in our shop. Rosewood bridge. Larger Golpe plate installed.
Finish
Original nitrocellulose lacquer finish, with the typical Flamenco orange tint. Finish is in decent shape, with no overspray over the repairs.
Hardware/electronics
Original rosewood friction tuning pegs, added Barcus Berry pickup with endpin jack.
Playability/Action
Plays quite well. This guitar has recently been overhauled in our shop.
Case
Mark Leaf case included.
This instrument is NO LONGER AVAILABLE. For details on other instruments we have avaialble, contact us here
---
You can preview our videos now on Our YouTube Channel!
You can now Visit our Facebook page!