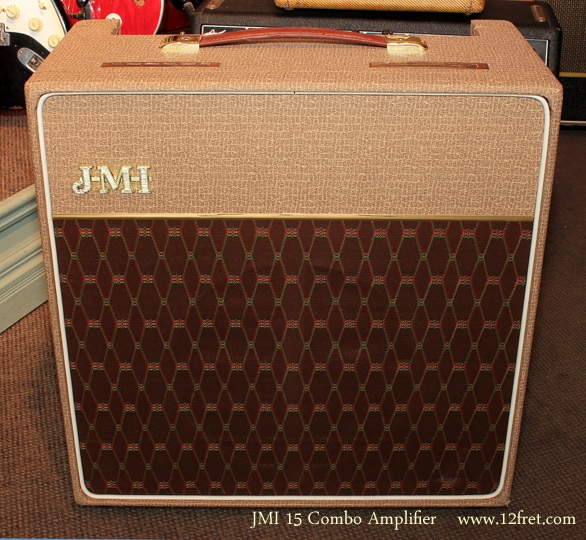 Here is a near-mint 2010 JMI 15 Combo Amplifier.
In the late 1950's to the mid 1960's, JMI – Jennings Musical Instruments – built Vox amps and these were *the* amps to have in the UK. In 1964, JMI was sold to the Royston group and American rights went to the Thomas Organ Company. Jennings left in 1967, Marshall became the dominant amplifier, and JMI folded in 1968.
In 1997, the owners of Hiwatt decided to purchase the JMI trademark and produce a line of hand-wired, point-to-point, top quality reproductions of the original JMI amplifiers. Though these are accurate reproductions of the Vox designs, the Vox name can't be used on them.
This example of the JMI 15 Combo Amplifier – a reproduction of the original Vox AC15 – is in pristine condition and features the fawn tolex covering. It has a single 12″ Fane speaker and two EL84 tubes – and it is loud.
Serial Number: 9269, built during 2010 in Doncaster, UK.
Pricing: $2000.00 CAD.
---
You can preview our videos now on Our YouTube Channel!
You can now Visit our Facebook page!