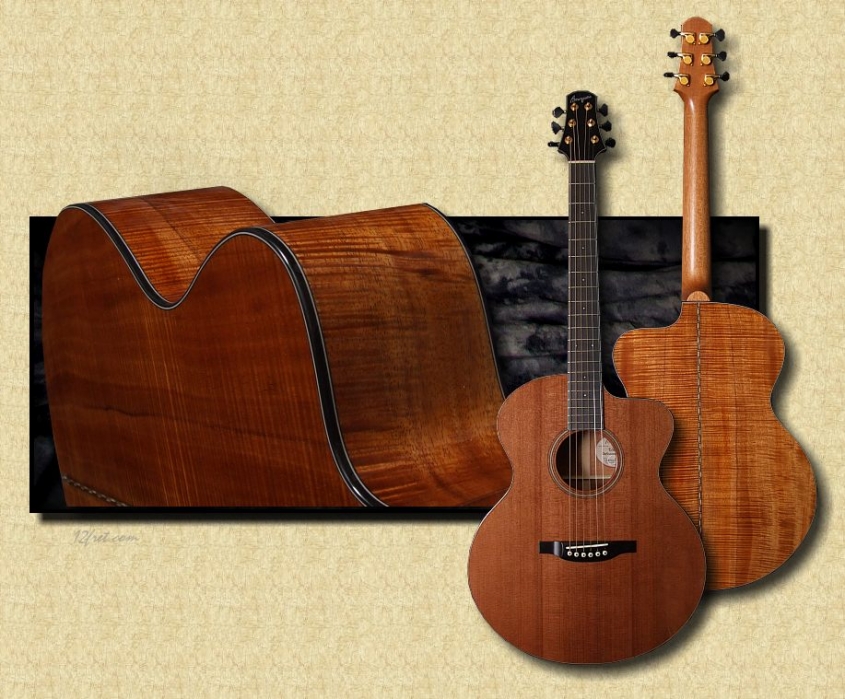 Sold and Discontinued
Yes this guitar just might be the next best thing to being on vacation in Hawaii!! When it came time to place another order for one of my all time favourite Bourgeois guitars I decided to try another exotic wood pairing. Seeking advise from the master I called up Bourgeois and asked what fantastic wood set they might have stashed away. The enthusiastic answer came in the form of a highly flamed Hawaiian Koa. I contemplated using a Sitka spruce top but Dana suggested that the usual Redwood top would sound great with the Koa and wow he sure was right!
The large bodied DBJC model is one of those guitars that feels more compact when you are sitting with it due to its curvy waist and lower bout but provides the lush bass response and sustain associated with a jumbo guitar. Hawaiian Koa does a great job of blending the midrange of mahogany with the top end focus of maple. It tends to open up as it is played and provide a richer, sweeter, more resonant tone due to an expanded midrange. The Redwood top is less dense than spruce which gives a sense of sonic warmth and more rounded treble frequencies. Quieter tones from a light touch will be louder but players with an aggressive right hand attack won't be able to drive the top as hard for high volume levels. While this guitar does sounds great for light and medium strumming its warmth and clarity are most apparent when playing fingerstyle. The body size provides added depth and sustain allowing more subtle fingerstyle passages to really ring out!
The striking flamed Koa and Redwood top pair well visually and convey the guitars warm tone. Top it off with the simply elegantmulti colored Herringbone back strip and gold Gotoh 510 tuners with ebony button and you have one beautiful instrument. I could stair at this guitar for hours, however, I prefer to close my eyes picture a warm tropical breeze and let the tone take me away to a warm sunny beach!
Specifications
* 1 3/4″ wide polished bone nut
* bound "snakehead" peghead
* logo inlaid in mother-of-pearl
* bound ebony fingerboard
* Gotoh 510 tuners with black buttons
* adjustable truss rod
* one-piece tropical mahogany neck
* 25 1/2″ scale length
* micro-dot position markers
* Redwood top
* Flamed Koa back & sides
* Multi color Herringbone backstrip
* Black body binding
* Black/maple top border with back and side purfling
* ebony belly bridge
* 2 5/16″ string spacing at bridge
* intonation compensated bone saddle
* deluxe arched top hardshell case