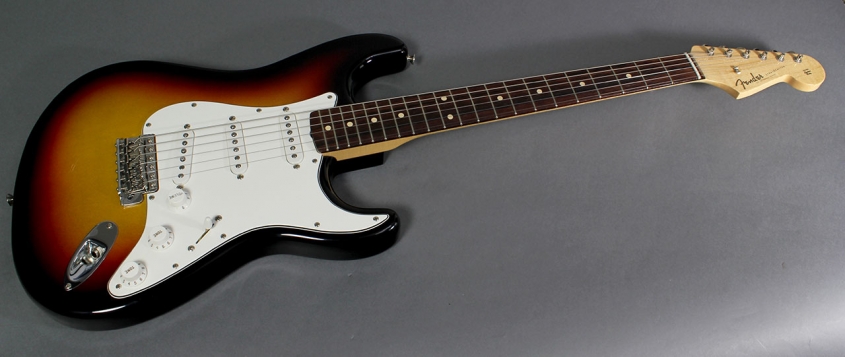 Serial Number
R18667, built 09 2010
Pricing
$2250 CND with original case No Longer Available
Neck
Maple neck with slab-style rosewood fingerboard and clay dots.
Frets
Original-style narrow fretwire with minimal wear.
Body
Alder body with 1960 specifications.
Finish
Red sunburst finish in excellent condition.
Hardware/electronics
Original 1960-style hardware, includes bridge cover.
Playability/Action
As with most examples of the Fender design, this instrument can be set up to meet the needs of almost any player.
Case
Original style brown tolex case.
Comments
The 1960 strat was an exceptional instrument, and it's clear from this reissue example why the design has remained basically unchanged. This guitar is in excellent condition and the greatest visible wear seems to be on the volume control numbering.As a Custom Shop model, the wood selection is a bit better and the neck's maple has a fair amount of tight curling. The body is light yet resonant and overall the guitar is comfortable and attractive.

If you want to know what a 1960 Strat would have been like when new – there is a pretty good chance this will tell you.
---
You can preview our videos now on Our YouTube Channel!
You can now Visit our Facebook page!