---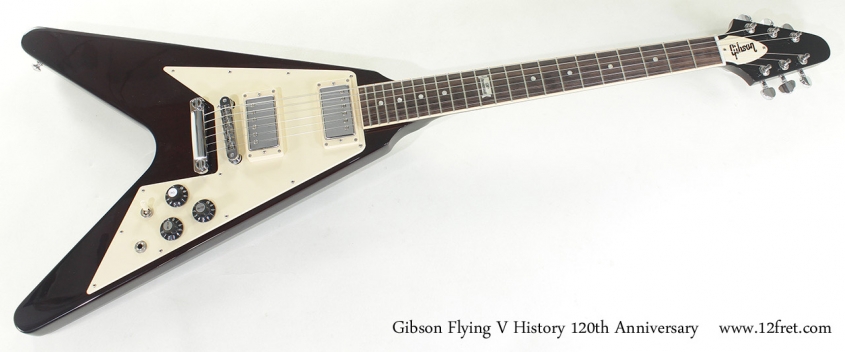 ---
There are few guitars more instantly recognizable than the Gibson Flying V. Prototyped in 1957 and introduced in 1958 as part of a wave of radically futuristic designs, the Flying V sold so poorly that it was dropped in 1958. Perhaps 98 production models (made with Korina wood) were shipped, and these are extremely collectable – and expensive.
The future finally caught up with the Flying V in 1966, and the model has been in limited production since then.
For its 120th anniversary, Gibson has now introduced the Flying V History model. This is a slightly slimmed down version reminiscent of the 1970s production. The guitar features a thinner mahogany body, mahogany neck with bound rosewood fingerboard, single-layer creme pickguard, '57 Classic and '57 Classic Plus pickups with 70's style knobs, Tune-O-Matic bridge and stop tailpiece, and a banner inlay at the twelfth fret reading '120th anniversary'. The finish is a dark Aged Cherry tint, in Gibson's usual nitrocellulose lacquer.
This model has a quiet feature that's unusual for Gibson, and is new for 2014 production. Gibson's production sequence for fingerboards has been to shape and inlay the fingerboard, install the frets and dress them level with the edge, then install and shape the binding, and finally glue the whole assembly to the neck. This means that the tang of the fret, which is hidden by the binding, is right up against the binding.
On 2014 Gibson models, as is the practice for nearly all other builders, the binding is installed before the frets, and the fret tangs are notched back to fit into the fingerboard. Finally, the edge of the fret bead is bevelled back and rounded for comfort.
This has two positive effects. First, it provides more playing surface, and second, because the fret tangs are notched back and aren't tight against the binding, when the fingerboard shrinks (as it will in the first dry winter), the fret tang will not push out and crack the binding, which has been a very common occurrence.
Read more about the Gibson Flying V History model at the Gibson site here
Serial Number: Varies as new – this is 140082264. The stamp further reads 'MADE IN USA 2014 MODEL'.
Pricing: $1,999.00 Canadian with hardshell Gibson Flying V case.
---
---
You can preview our videos now on Our YouTube Channel!
You can now Visit our Facebook page!
Check out Grant's Banjo Setup Q&A