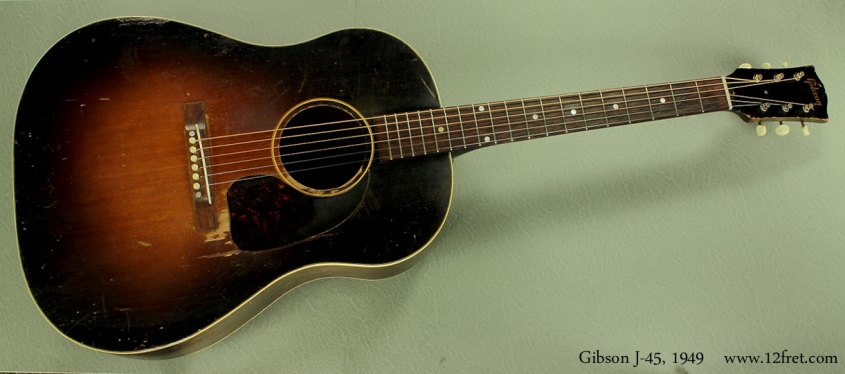 Comments
Here's a wonderful, seasoned Gibson J-45 from early 1949. Warm, full and resonant, but not overly bassy, this demonstrates the classic J-45 sound, the reason that this model has been so popular since its introduction in 1942.

This guitar has been used as intended over the last sixty-plus years, and there's wear to prove it. That use also contributes to its great sound.

Serial Number
3757, built during early 1949 in Kalamazoo, Michigan.
Pricing
$6,999.99 CAD including case.
Neck
Mahogany neck with unbound rosewood fingerboards; mother of pearl dot markers. Gibson logo screened on headstock in gold. Play wear on fingerboard.
Frets
Wear on frets in the low positions, particularly the 1st fret.
Body
Classic slope shoulder body, spruce top and mahogany back and sides. Faux tortoise pickguard. Some cracks on back have been repaired.
Finish
Original nitrocellulose lacquer finish, with lots of play wear and natural lacquer checking.
Hardware/electronics
Nickel plated strip gerars with white plastic buttons; G tuner is bent slighty. Bone saddle.
Playability/Action
This guitar has just been serviced in our shop and plays very well. It's very light and responsive.
Case
Hardshell case included.
You can preview our videos now on Our YouTube Channel!