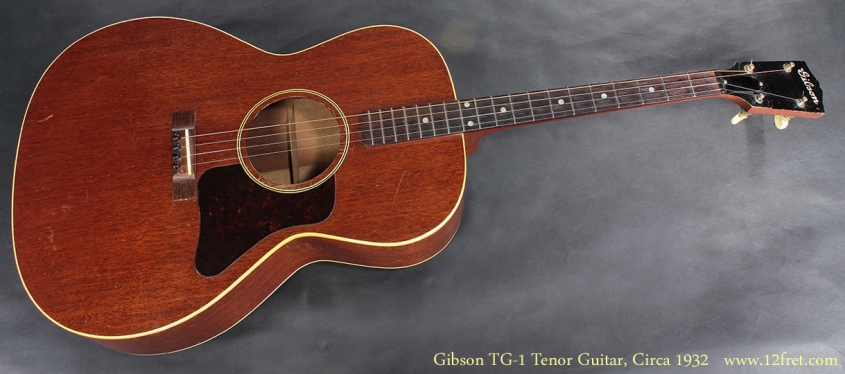 Comments
This is a Gibson TG-1 Tenor Guitar circa 1932. The dating is not exact for this period, but it was made between 1927 and 1937.

Tenor guitars became very popular in the 1920's, going with the rise of the tenor banjo as a rhythm instrument for jazz type music. Possibly first built in the dawn of the 20th century by Lyon and Healy – many of their guitars carried the brand name 'Washburn' – by 1920 most manufacturers built them.

Another possible reason for the popularity of the tenor instrument might be an expression of natural selection, in that the recording technology of the 20's and 30's, a direct cut on acetate or metal from an acoustic input, works better with sounds in the range that tenor instruments produce. So, as these were the instruments that recorded successfully, and recordings became very popular, these were the instruments people heard and wanted. Manufacturers responded with production runs.

As microphone and recording technology improved, however, wider tonal and frequency ranges could be better reproduced, and the six-string guitar became dominant.

This is a very good condition instrument – as I write it's about 81 years old – and works as well as it did when new. Lots of fun to play, too!

Serial Number
319, built between 1927 and 1937 in Kalamazoo, Michigan.
Pricing
$1750.00 CAD with oiriginal fibre case.
Neck
Mahogany neck with unbound rosewood fingerboard, black headplate with Gibson logo stencilled on in white paint. Pronounced V profile, 22 7/8″ scale length and 1 3/16″ nut width.
Frets
12 frets to the body, original narrow frets in good condition.
Body
All mahogany body, top and back bound with creme plastic binding. White-black-white plastic rosette, faux tortoise pickguard.
Finish
Original nitrocellulose lacquer finish in good condition.
Hardware/electronics
All original (except strings!). Nickel geared Grover patent banjo tuners with grained ivoroid buttons. Rosewood bridge, bone saddle, ebony nut.
Playability/Action
Plays well. Currently tuned to C in fifths.
Case
Original fibre (cardboard) case in 6/10 condition.
---
You can preview our videos now on Our YouTube Channel!
You can now Visit our Facebook page!