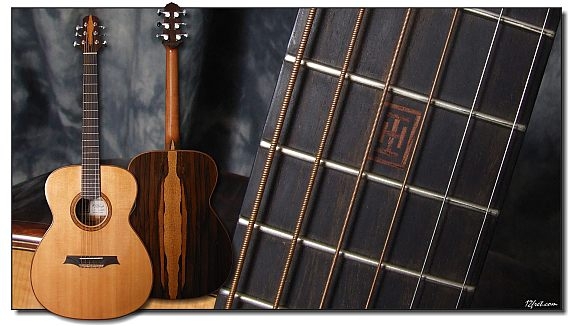 No Longer Available
About a year ago I met with Michael Kennedy on the sales floor of the shop. He was stopping by to show us some of his new steel string guitars and introduce his company Indian Hill guitars. I had heard his name when talking with master luthier Sergi de Jonge and even seen an example of his work on a classical double top during his apprenticeship. Needless to say I was very interested to see his work. Often your first look and strum on a guitar will tell you a lot about a builder and these are definitely impressive well built instruments. Not only does Michael have the practical knowledge and skill necessary for guitar building but he seems to have achieved a wonderful balance between beautiful aesthetics, structural integrity and most importantly great tone. His attention to detail is excellent from the neck joint and internal braces to wood selection and finish work.
Flash forward a year and we have just received our first Indian Hill guitar from Michael and it may be even better then those original guitars which were so impressive. The first thing that struck me about this OM was the stunning set of Ziricote on the sides and back. I am totally a nut when it comes to sap wood and dark distinct grain lines and this set has it in spades!! Then you notice the lovely reddish hue to the bubinga body binding and the simple elegant Indian Hill logo inlayed on the ebony fingerboard. Top it off with a matching headstock overlay complete with sap wood, spalted maple rosette and an ebony pinless bridge with spalted maple inlay and you have one visually stunning guitar!
The top bracing and top thickness were inspired by violins which are thinner around the bridge and thicker towards the edges of the top. Michael also uses a side port which increases rapid air movement through the box and gives the player a better representation of the overall sound. The bracing, top thickness, sideport and light french polish finish all combine to create more top vibration which increases sustain, volume and tone production. This guitar is well balanced and responsive with a crisp note fundamental, tight bass, silky midrange and musical overtones!
Mike Gray
Specifications
* Body – OM, with side port
* Top – Solid Sitka Spruce
* Back – Solid Ziricote
* Sides – Laminate Ziricote
* Binding – Bubinga
* Bridge – pinless Rosewood, bone saddle
* Nut – Bone, 44.5 mm width
* Neck: Cherry
* Fingerboard – Ebony
* Scale Length – 64.5 cm
* Tuners – Gotoh 510
* Finish – French Polish