NO LONGER AVAILABLE
Good looks, beautiful wood sets, superb craftsmanship and great tone! What more do you need right? How about a guitar that has all these things and a great story. This stunning 000 Redwood and Walnut cutaway from local builder Denis Kwasnycia has just that.
The Last Great American Train Robbery:
October 11, 1923, the three DeAutre-mont brother held up the "Gold Special- #13" that was also pulling 13 cars. This took place at Tunnel 13, of the Southern Pacific Railroad, just outside of Ashland, Oregon that was heading from Seattle to San Francisco. During their attempt to rob the train, they failed miserably without a dime. In the process, four innocent people were killed that day. A reward of $15,900 was put up for their capture and they were eventually caught over three years later.
In 2003 the tunnel caught fire and collapsed due to some transients trying to keep warm. The large Redwood beams that held up the tunnel were pulled out and the tunnel was repaired with steel and concrete pillars. The Coastal California Redwood from Tunnel 13 was put up for salvage and only a small amount was saved for guitars. This fine grained virgin Redwood comes from trees that were up to 2500 years old and is a highly sought after wood for its historical significance, beauty and tone. This guitar is number one of a run limited to thirteen pieces.
If that story doesn't do it for you then the beautifully figured Bastogne Walnut on the sides and back, koa body binding, Redwood top and Macassor ebony fretboard should get your motor running! The clean lines and attention to detail is very impressive and illustrates the overall level of craftsmanship involved with this guitar.
The 000 body shape is very comfortable to hold and play and the cutaway provides great access to the upper frets. The Redwood top provides a warm rounded edge to the note fundamental and works really well with a lighter touch and fingerstyle playing. This pairs well with the Walnut sides and back which has a fairly bright top end and a present midrange somewhere between mahogany and rosewood. Great looks, Great tone, Great story …. Great guitar!!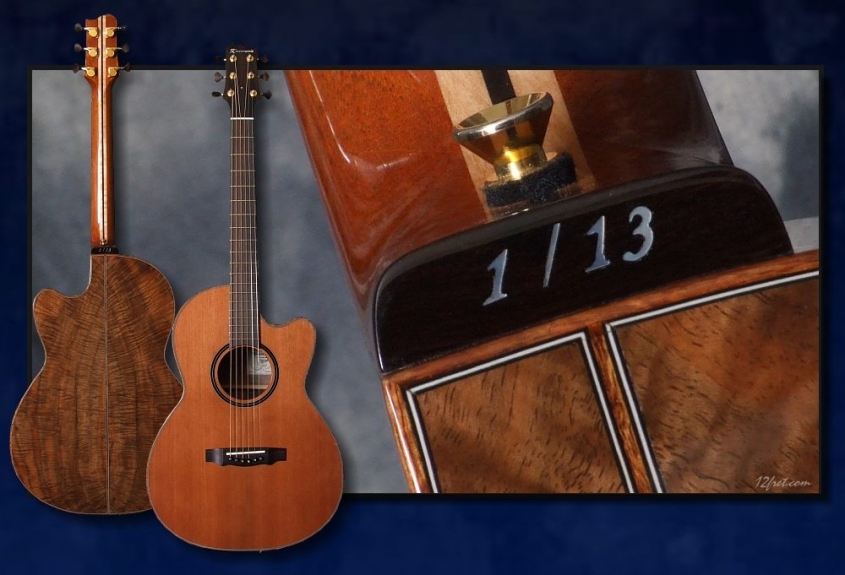 Specifications
* 000 body with cutaway
* Redwood top
* Bastogne Walnut sides and back
* Koa body binding
* Mahogany/maple/rosewood neck
* Macassor ebony fretboard
* 25″ scale length
* 1 3/4″ bone nut
* 2 1/4″ spacing at the saddle
* Macassor ebony bridge, heel cap and tuner buttons
* Gold Gotoh 510 machine heads
* Dual action truss rod
* Hardshell case