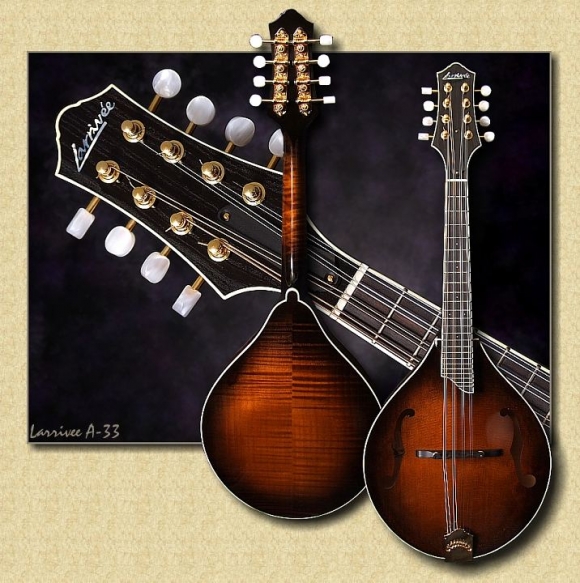 $1995
Jean Larrivee has taken a lot of heat for not releasing his new Larrivee mandolin series sooner, but this man will just not let any instrument leave his shop unless he is 100% happy with it. I admire that kind of dedication and perfectionism as does his legions of happy customers around the world.
Mr. Larrivee showed a few mandolins at the winter NAMM show a couple of years ago and got some extremely positive reviews from people in the industry. I remember walking up to the Larrivee display at one point, and realizing renown historian & retailer George Gruhn was playing one of Jean's display mandolins. When I asked him what he thought he indicated that he was as impressed as I was … and this coming from a man who once owned a full set of Loar-made mandolin/mandola/mandocello!
Larrivee's interest in mandolins goes back to the mid 1970's. I can remember when I was a young apprentice in the small Larrivee shop during that time period, we would play mandolin & fiddle after work every chance we got. Jean guided me through building my first few mandolins in 1975-76 … his knowledge of these intriguing instruments was encyclopedic even back then!
With this new series of A-style mandolins, Mr. Larrivee has taken his considerable skills to an entirely different level. The top and back carving on these instruments is exquisite with the graceful arching and deep recurve around the edge. The striking grained ivoroid binding with its delicate side pinstripe fillet sets off a rich Cremona stain, which itself is enhanced with an expertly applied ultra-thin lacquer gloss finish. As you would expect, Jean has equipped these instruments with the best hardware … gold plated 1:18 ratio tuners, a Loar-style floating ebony bridge and a rugged cast tailpiece.
How do they sound? The words that spring to mind are "throaty", with a great bark when chopping out chords, unbelievable dynamic range & headroom and loads of that beautiful mandolin high-end chime!
Specifications for the Larrivee A-33 Mandolin
* 1 1/8″ wide bone nut
* bound & radiused ebony fingerboard
* suspended fingerboard extension
* bound ebony peghead overlay with side fillet
* mother-of-pearl logo peghead inlay
* adjustable truss rod
* 13 13/16″ scale length
* dovetail neck joint
* gold plated 1:18 ratio precision tuners
* flamed maple neck with traditional V profile
* carved & graduated spruce top with tone bars
* carved & graduated flamed maple back
* flamed maple sides
* grained ivoroid body binding with side fillet
* Loar-style ebony adjustable bridge
* rugged gold plated cast tailpiece
* Cremona stain under Varnish finish
* deluxe arched top hardshell case
---
You can preview our videos now on Our YouTube Channel!
You can now Visit our Facebook page!