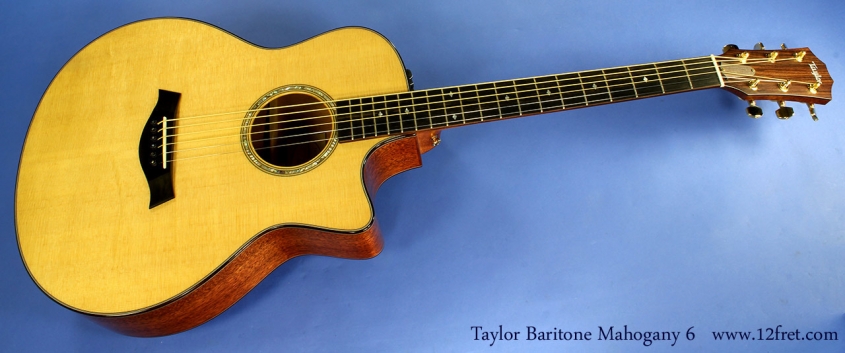 NOTE: This instrument has been discontinued by Taylor. This post is maintained for historical reference purposes only.
Originally designed as a 35th Anniversary model, this uniquely voiced instrument has become a popular production model that appeals to all types of players.
This massive sounding Grand Symphony body shape features a warm and well balanced wood pairing of Sitka spruce and mahogany to go along with a 27″ scale length tuned from B to B. This guitar also features rosewood binding, an abalone rosette, mother of pearl diamond fretboard inlays, a Venetian cutaway and the ES pickup system to make the guitar gig ready.
Taylor's standard low profile neck shape makes it very easy to get used to the longer scale length. Within minutes, the only way I could tell I was playing a Baritone guitar was from the deep meaty tones it was producing.
This guitar is usually strung with Elixir .016-.070 strings, but players that find B tuning too low or are looking for an alternative timbre could use a medium .013-.056 gauge and tune to D. The longer scale length maintains normal string tension when tuned a full note lower. Then slap a capo on the second fret and you have standard tuning again. Now that's versatility!
Some Baritone guitars have a tendency to sound a bit muddy or too dark when tuned so low, but the wood pairing and body design on this model provides huge low notes that still maintain clarity and definition. Whether you are a first time Baritone user or you spend a lot of time off in the deep end, this guitar is a must play!!
STATUS: DISCONTINUED
Specifications
* Grand Symphony Body
* Sitka spruce top
* Mahogany sides and back (also available in rosewood)
* Mahogany neck
* Ebony fretboard
* 27″ scale length
* Tuned: B E A D F# B
* 1 3/4″ nut width
* Low profile neck shape
* Mother of pearl diamond fretboard inlay
* Abalone rosette
* Rosewood binding
* Venetian cutaway
* Taylor Expression system pickup
* Hardshell case

---
You can preview our videos now on Our YouTube Channel!
You can now Visit our Facebook page!