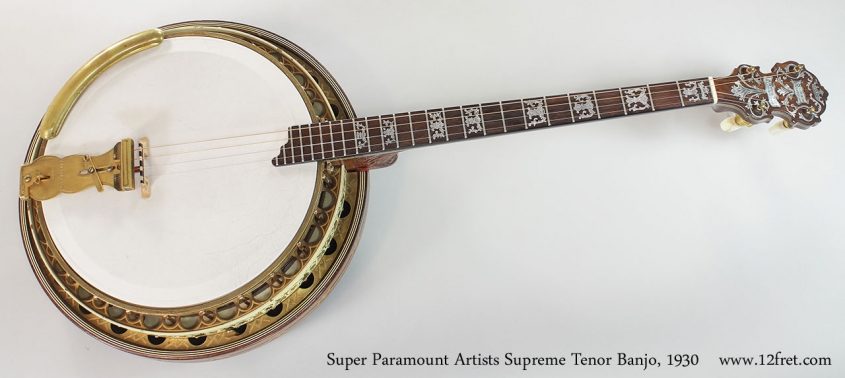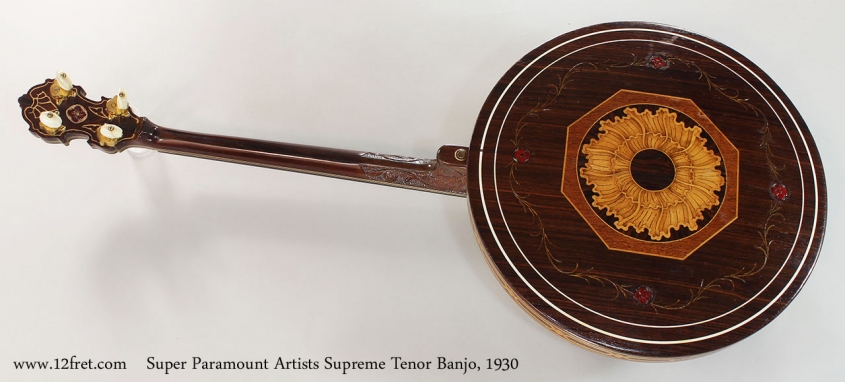 Price: CDN $5850
US Price:
US $4658.76
*US dollar exchange varies daily
Class: Vintage
Consignment
SOLD
S/N: A 118, built during early 1930 in New York City.
In 1897, William Rettberg and William Lange bought the J H Buckbee banjo company and by 1903 moved to larger premises and introduced Orpheum banjos. More expansion and moves followed, and in 1920 a patent was granted to William L. Lange for the Paramount banjo. Lange took sole control of the company in 1922.
In 1929, Lange began production of the final series of Paramount banjos, the 'Super Paramount'. Three models were available - the Ensemble King, the Artists Professional and the Artists Supreme.
The most elaborate of the Super Paramount line was the Artists Supreme, with engraved inlays on the head and fingerboard, marquetry on the resonator, and an engraved celluloid sidewall. It is a spectacular instrument.
All Super Paramount banjos had a double stepped resonator, unique to Paramount, and not seen on any other banjo. All three models came with a large one piece tone modifier tailpiece mute.
This example, bearing serial number A 118, was built in either early 1930 or late 1929. It has a custom extended fingerboard, Page tuners, rosewood neck and resonator, rosewood fretboard and headstock overlay with w-b-w-b-w underlays, much fancy marquetry on the resonator, the unique Paramount double flange, an engraved white celluloid sidewall on the upper flange, gold plated and fancily engraved hardware, a carved heel, pearl buttons, fancy engraved inlays, skin head, an unusual early hinged 'Patent Pending' mute on the tailpiece - a fancier mute came in later.
This instrument has been refinished, and is in good playing condition. The original hardshell case is included.
Super Paramount instruments were assigned their own three digit serial numbers, distinct from other Paramount banjos. The serial numbers range from 000 in 1929 to around 280 in 1925 and it's known that Artists Supreme number A 113 was purchased in Los Angeles for $360.00 in October 16 1929, just before the stock market crashed on October 29.
Contact The Twelfth Fret Regarding This Item