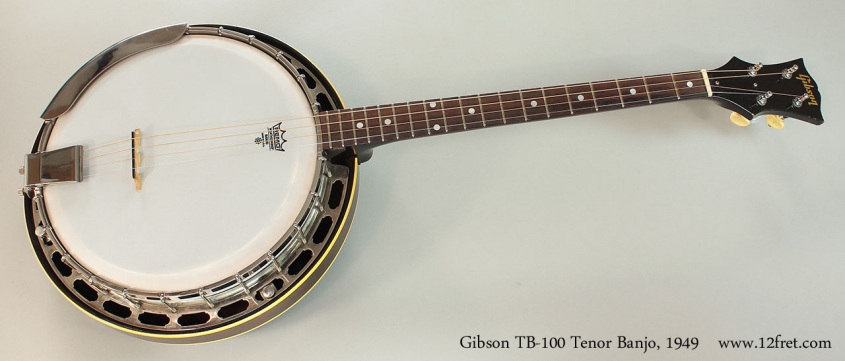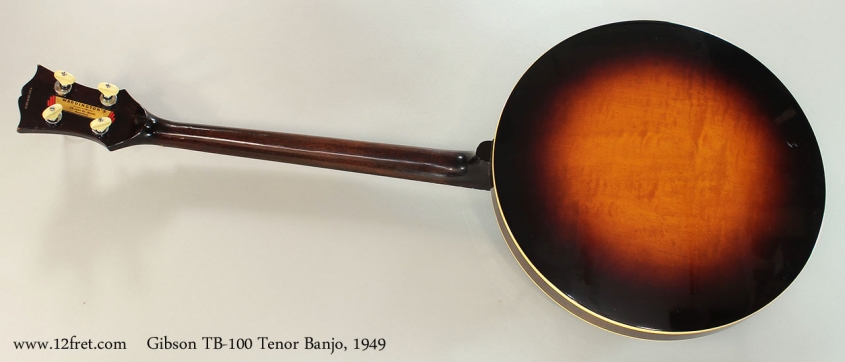 Price: CDN $1250
US Price:
US $995.46
*US dollar exchange varies daily
Class: Vintage
Consignment
SOLD
S/N: 1913-21, built late 1949 at the Gibson plant in Kalamazoo, Michigan.
Here we see an exceptionally clean and original 1949 Gibson TB-100 Tenor banjo with original finish, hardware and case. The original nitrocellulose lacquer finish is in near perfect condition and remarkably the original planetary 'pancake' tuners are intact and functioning as new.
The Gibson TB-100 banjo featured a full 1-piece zinc flange as seen on Mastertone banjos. The tone ring was a brass rod archtop system. The neck is mahogany with Brazilian rosewood fretboard and the resonator and rim are maple.
We are dating this Gibson TB-100 banjo as a 1949 model based on its features and its serial number. Listings for this TB-100 banjo's specific serial number, 1913-21, can be a little vague - 1949 or 1950. However, there is a documented Gibson RB-100 banjo, serial number 1913-6, which has a sales receipt dated 1949.
Note regarding the model names - the TB designation means 'Tenor Banjo', and the RB designation means 'Regular Banjo', or standard 5-string. While these two types were the most common, there were others including PB for Plectrum Banjo, GB for Guitar banjo, MB for Mandolin Banjo and UB for Ukulele Banjo.
This fine example of the Gibson TB-100 tenor banjo was originally sold by Waddington's House of Music in Hamilton around 1950. The tiny 'Made in USA' stamp on the back of the peghead confirms that this instrument was built specifically for export to Canada.
This instrument is currently set up for Irish Tuning with Newtone Irish Tuning strings and has a new Frosted Weatherking head installed.
The hardshell case is original early post-war version and entirely intact and is easily good for another 65 years of use.
Contact The Twelfth Fret Regarding This Item