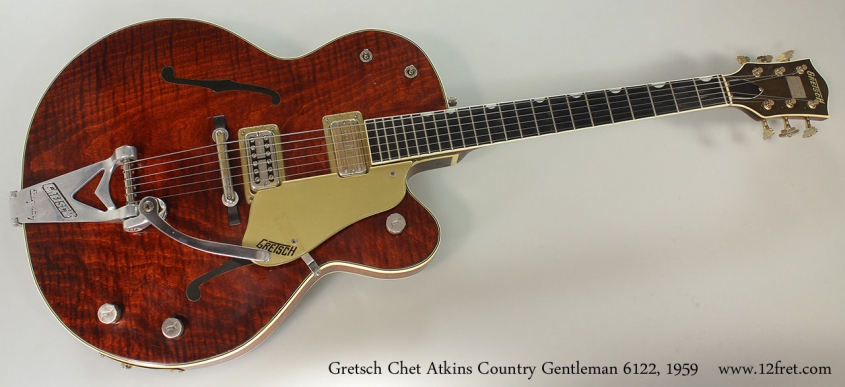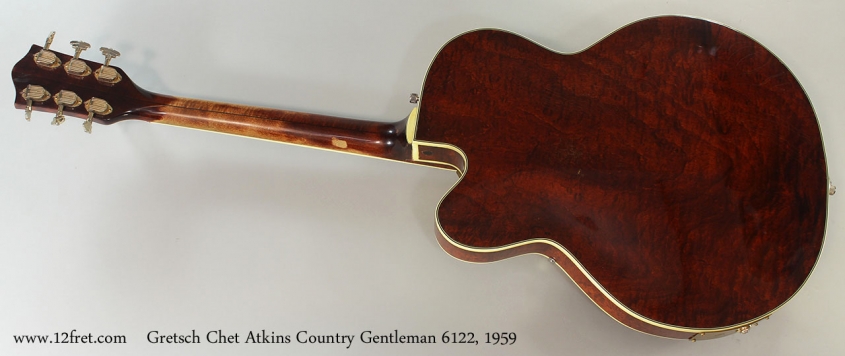 Price: CDN $6350
US Price:
US $5056.94
*US dollar exchange varies daily
Class: Vintage
Consignment
SOLD
S/N: 31400
Chet Atkins was the top guitarist in the late 1950's, and the Gretsch Chet Atkins Country Gentleman was one of the most sought after professional level guitars. In fact, this guitar was built just before Chet's own - this is serial number 31400 and Chet's was 31444.
With a slightly larger body (17 inches) than the famous Gretsch 6120 (16 inches wide), the Gretsch Chet Atkins Country Gentleman sports a number of features intended to meet Chet's needs. First, for better sustain and feedback rejection at stage volume, the F-holes don't go through the top (except on the very earliest models). On some models, they are painted on, but these appear to be inlaid plastic. The neck features a zero fret, which makes the action very even in the low positions. The ebony fingerboard has a 24.75 inch scale length and is 1-11/16th inch wide for complex chording. The wood selected for the body is highly figured, and shows nicely through the mahogany stain finish.
For electronics, the newly introduced, hum-cancelling Filter'Tron pickups were added. On this guitar, the original neck pickup has been replaced by a later Super'Tron (the original pickup is in the case). The Super'Tron uses a bar magnet for better string to string balance in the neck position, and was used by Chet Atkins. There is an extra-large brass output jack plate on the side and it was punched for a second jack. It's possible that this was at one time wired with two jacks for stereo output. The tuners are Grover Imperial models with deco stair-step buttons, which were an original part though there are signs that other tuners have been installed, and the original bar bridge and Bigsby are in place. The bar bridge was one of Chet's ideas for improved sustain. The serial number is listed on the headstock nameplate.
It is a rare treat to see one of these guitars for sale, and even more to get to play it. Introduced in 1957, the Country Gentleman 6122 was built in this single-cutaway form until late 1961. Then it became a double-cutaway model, and was also adopted by George Harrison of The Beatles, who played a 1963 Country Gentleman on the Ed Sullivan shows. There are far, far more of the double-cutaway models than the single.
This guitar is in good playing condition, with some fret wear. There is a patched hole on the top that perhaps held a control pot at one time, possibly to go with the second output jack. There is a long-ago repaired and very solid head crack. The original case is included.
Contact The Twelfth Fret Regarding This Item