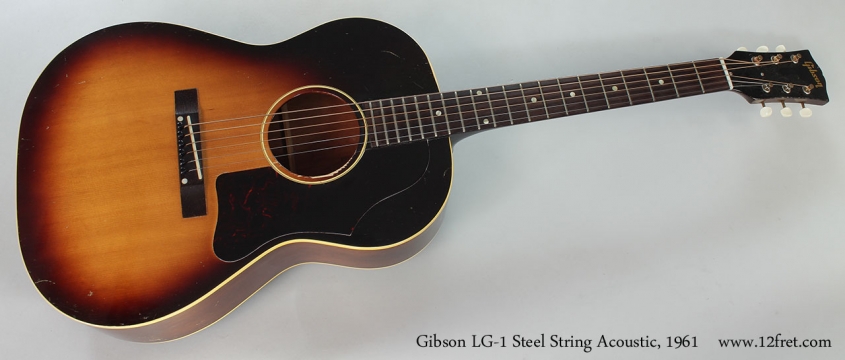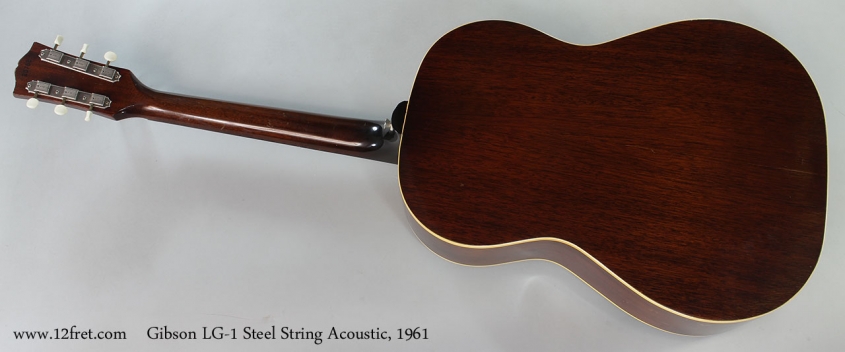 Price: CDN $1699.99
US Price:
US $1353.82
*US dollar exchange varies daily
Class: Vintage
Consignment
SOLD
S/N: 20795, built during 1961 in Kalamazoo, Michigan
Having grown up playing my old Gibson LG-1 (Little Guitar, model 1) I just can resist picking up every one that comes in the door. The smaller body suits my lanky 5 foot 8 frame; it's the same size as the standard classical guitar body, so it is very comfortable to sit with.
This 1961 Gibson LG-1 guitar is a particularly nice one. It has no history of amateur repairs, and with its original finish and tuners is quite a gem.
This example predates the upside-down belly bridge, adjustable saddle and narrow neck models that showed up about 2 years later. The nut on this one is 1 11/16 inches and the neck has a nice, wide feeling, shallow C profile. The top is solid spruce, the rest of the guitar is mahogany with rosewood for the fingerboard and bridge.
Johnny Shines is probably the best known player associated with the Gibson LG-1 model, later named the Gibson B-25 model.
Bare finger blues on a Gibson LG-1 is THE sound of Johnny Shines and many of his contemporaries. The small body tightens up the bass response nicely for a good balance between his thumping running bass and the treble melody line.
Grant MacNeill The Twelfth Fret
Contact The Twelfth Fret Regarding This Item