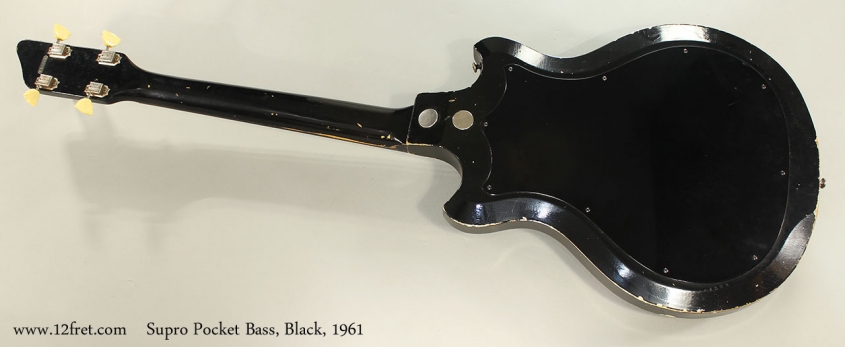 Price: CDN $999.99
US Price:
US $796.36
*US dollar exchange varies daily
Class: Vintage
Consignment
SOLD
S/N: T51068, dates to around 1961 and built in Chicago, Illinois.
This is pretty rare and very cool - from 1961, the Supro Pocket Bass, a guitar-scale bass with huge tone. Some call it one of the best recording basses.
The Supro Pocket Bass was built between 1960 and 1968 and features a double cutaway semi-hollow body - the body also appeared with a guitar neck - with a very short scale (24.75 inch, Gibson size) neck. There's one large Valco pickup towards the neck, and the the moveable rosewood bridge houses a piezo pickup for 'acoustic' bass sounds; the controls blend the two pickups. There are a pair of clear plastic thumb or finger rests on the top, and the back carries a large removable backplate for access to the electronics. A set of Kluson Deluxe tuners and a trapeze tailpiece round out the hardware.
The Supro Pocket Bass is small, even compared to short scale basses like the Gibson EB-0 or the Hofner Beatle Bass, but it has a big sound. Apparently GE Smith, sideman to many and a bandleader for Saturday Night Live, called them "the best recording basses around".
This example dates to around 1961 and is in good working order. It has some wear; Supro finishes weren't particularly thick or durable, and there is a spot just past the finger rest where the finish has worn off. It's very comfortable to play and very cool. The original hardshell case is included.
Contact The Twelfth Fret Regarding This Item