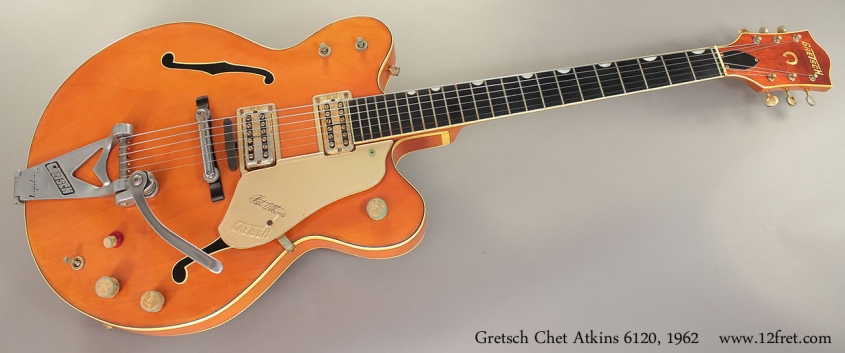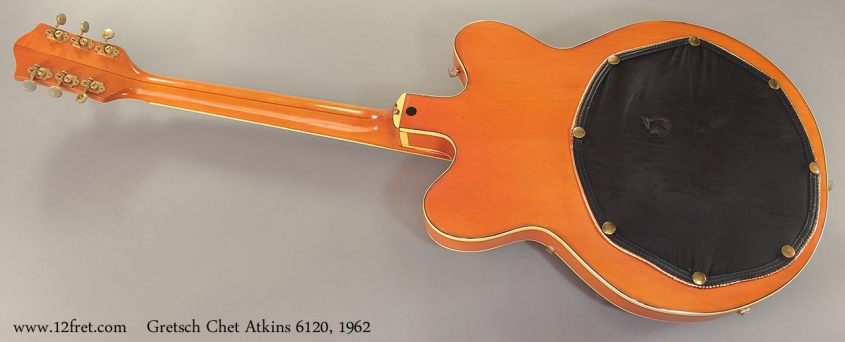 Price: CDN $3999.99
US Price:
US $3185.47
*US dollar exchange varies daily
Class: Vintage
Consignment
SOLD
In 1954, Chet Atkins was seen on the Grand Old Opry stage with a new Gretsch prototype guitar, which was at that time referred to as the 'Streamliner Special'. Based on the new Streamliner model - a single-pickup, fully hollow guitar with large F-holes - the Streamliner Special had a maple top with a G-brand, two deArmond pickups and block position markers with western motif engravings.
After a short period and minor changes, including the addition of a standard Bigsby instead of the western 'belt buckle' tailpiece, the Streamliner Special was introduced in 1955 to the production line as the Gretsch Chet Atkins 6120.
By the early 1960s, Music had changed significantly, and the rise of rock meant a lot of updates to guitar designs to accommodate dramatically increasing stage volumes and common use of higher frets on the neck.
In response, for 1962 the Gretsch Chet Atkins 6120 had a dramatic makeover. In particular, the new, thinner and double cutaway, sealed top 'Electrotone' body replaced the classic fully hollow single-cutaway. A mechanical string mute system was added to the body, with a plastic access plate on the back covered by a padded, snap-on cover.
This example of the 1962 Gretsch Chet Atkins 6120 is in original condition, with a period Gretsch case. There is some corrosion on the knobs and a piece of the heel-cap plastic is missing, but the guitar is all there, the geometry is good, and it is quite playable. It's very comfortable, has a great tone and absolutely has the vintage vibe!
Contact The Twelfth Fret Regarding This Item