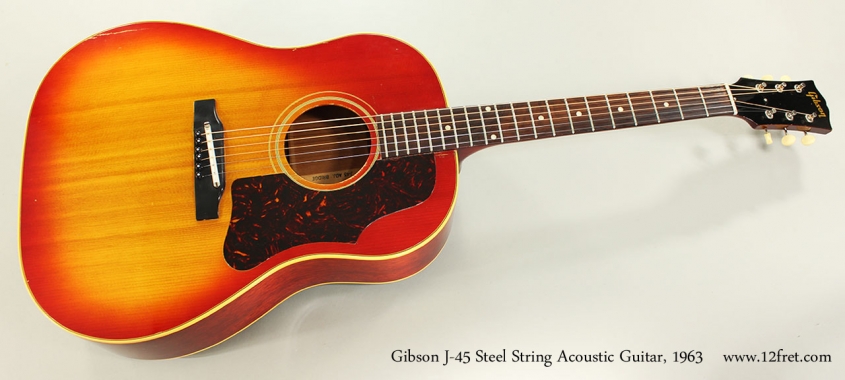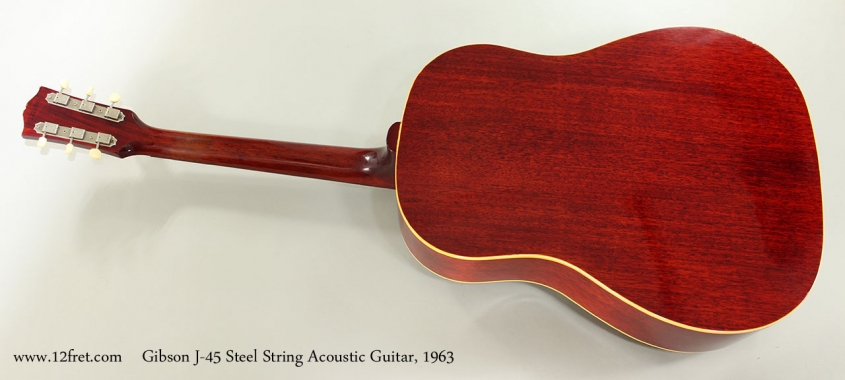 Price: CDN $3000
US Price:
US $2389.11
*US dollar exchange varies daily
Class: Vintage
SOLD
S/N: 132984, built during 1963 at the Gibson Parsons Street plant in Kalamazoo, Michigan.
While there are many really great sounding guitars, to my ear, for a number of musical styles there's little to match the sound of a Gibson J-45 and a voice. The tonal qualities of the slope-shoulder dreadnought J-45 just seem to fit perfectly with a lone singer.

The Gibson J-45 first appeared in 1942 and except for short periods has been in production since. The basic construction is a spruce top paired with mahogany for the sides, back and neck, and rosewood (sometimes, including 1963, Brazilian) for the fingerboard and bridge. There have been two major body styles, the original round or slope-shouldered dreadnought and a square shouldered version produced between 1969 and 1982, at which point the J-45 dropped out of production. When it reappeared in 1984, it was back to the original slope shoulder. It was again out of the catalog between 1993 and 1999 but is now a staple. in 1956, the adjustable saddle seen on this guitar made its appearance, and in 1961 this type of saddle became standard. For the 1963 model year, the bridge is a plastic unit molded to look like ebony. In 1964, the bridge was rosewood again.

This example dates to 1963, and has both the original adjustable ceramic saddle and plastic bridge. It is in overall good condition with not a lot of wear, especially given its age. The finish is in good condition with natural and expected checking, but very little fading. There is a finish scratch on the top, at the edge of the lower bass bout. The strip style Kluson Deluxe tuners and bridge are original, and there are two small cracks in the plastic bridge at either end of the pin row. The neck style is very 1960's, with a comparatively narrow nut ( 1 5/8 inch) and slim -ish profile. This is a very comfortable and good-sounding guitar.

A non-original hardshell case is included.
Contact The Twelfth Fret Regarding This Item