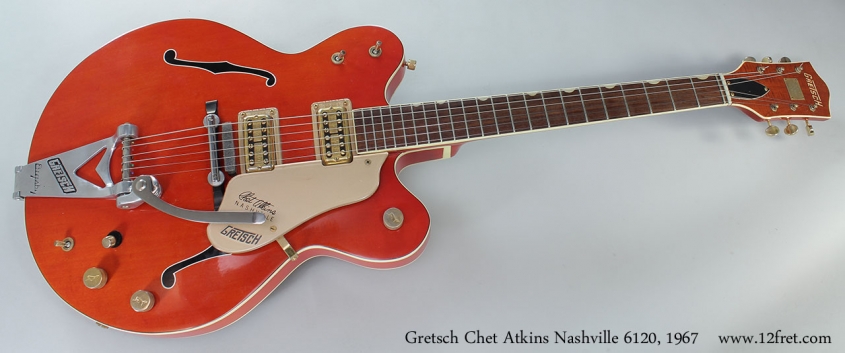 Price: CDN $2600
US Price:
US $2070.56
*US dollar exchange varies daily
Class: Vintage
Consignment
SOLD
S/N: 57982, built during 1967.
This is one of the nicest Gretsch Chet Atkins Nashville 6120 models we've seen. Built in 1967, this guitar is in quite good shape with no major wear or damage, and importantly, the binding is in excellent condition.
Originally a full-bodied, single cutaway archtop, in the early 1960s the Gretsch 6120 underwent a major change. It still carried much of the same hardware, but the body slimmed down and became a double cutaway with no F-holes; a snap-on padded back pad covers a plastic cover plate that exposes the guitar's interior, making service considerably easier. This was important because the new Chet Atkins Nashville gained new hardware in the form of switch-operated string mutes.
This 1967 Gretsch Chet Atkins Nashville 6120 is in much better than average condition. It has been played and there is some fret wear; it's just been set up in our shop and it plays well and cleanly. During the setup, the mute's foam was replaced. The finish is in excellent condition, showing the sinking that is completely expected of an aged lacquer finish, but none of the crazing or chipping that comes from radical temperature changes. The binding is 100%, with no sign of the binding rot that is so tragically prevalent with Gretsch models from this period. The original case is included.
Contact The Twelfth Fret Regarding This Item