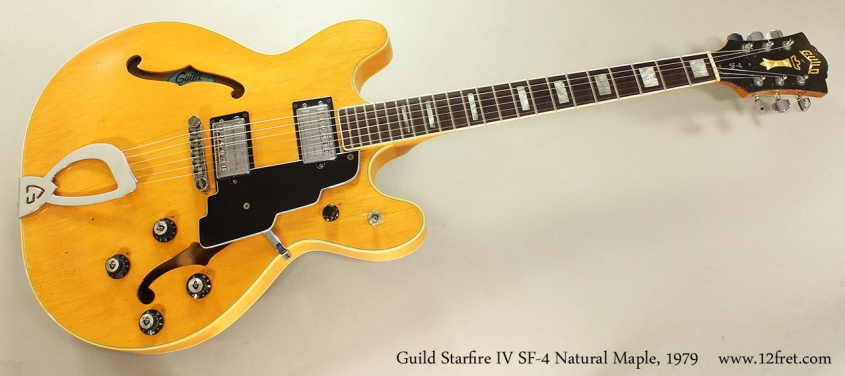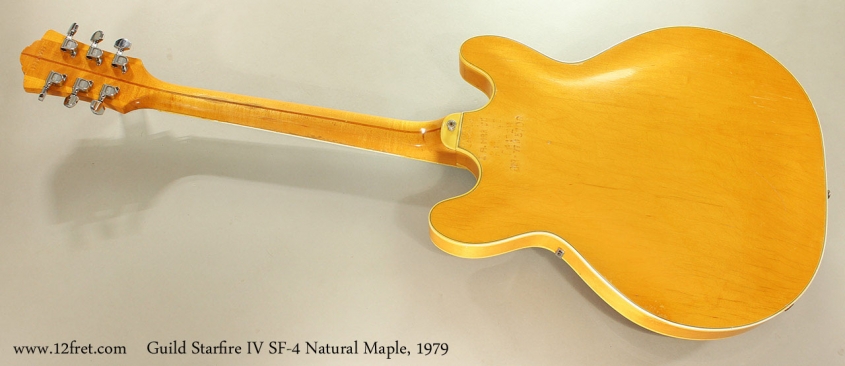 Price: CDN $1575
US Price:
US $1254.28
*US dollar exchange varies daily
Class: Vintage
Consignment
SOLD
S/N: GA100022, built during 1979 in Westerly, Rhode Island.
The Guild Starfire series appeared in 1960 with the Starfire I, II and III, single cut, thinline hollow bodies. The Starfire IV and V arrived in 1963, and the VI in 1964, as double-cutaway semi-hollow models. Originally all these models used floating bridges, but by the 1970s an adjustable bridge was installed directly to the top on the semi-hollow models. Tailpieces were either a Guild harp or a Guild-branded Bigsby. The Starfire IV was one of the most popular versions. Between the SF-4, SF-5 and SF-6, the differences were largely decoration and cost; the SF-4 is the core model with thinline, semi-hollow body and neck in maple or mahogany, bound rosewood fingerboard with mother of pearl dot position markers, and unbound head. The SF-5 was the same guitar, but with block position markers. Finally, the SF6 had gold plating, extra binding around the head, and block mother of pearl inlays with abalone inserts, and a gold Bigsby. However, there's lots of variation in how these guitars were appointed. I have a 1973 Guild SF-4 in mahogany, with block position markers a bound headstock and gold tuners. Here, we see a 1979 Guild Starfire IV, SF-4 in maple, with block position markers - essentially making it an SF-5. These guitars were very popular, especially with Blues guitarists. Many photos of blues artits from the 1960s and 1970s show them playing Guild guitars, and often the Starfire IV. At this point, Guild used a wiring scheme that is very practical. Based on the standard pickup selector with individual volume and tone controls, Guild put the pickup selector on the tip of the lower cutaway and added a master volume control. The pickups are humbuckers, with a very good tone. It's probably not an accident that early B. C. Rich guitars by Bernardo Rico used Guild humbuckers. This Guild Starfire IV in maple, with block position markers, was built during 1979 in Westerly, Rhode Island. It's in good original condition but has been recently refretted with Dunlop 6150 fretwire- the original frets (included in the case!) were completely worn out and it now plays very well. That fretwear occurred while this guitar was used, as intended, for decades, and along the way it gained a tattoo. The original owner scratched their name and phone number on the back near the heel block. This has been partly removed, but as with ink tattoos, removal is never really successful. We've chosen to leave this as is rather than refinish. The original hardshell case, black with blue interior, is included; one latch is broken.
Contact The Twelfth Fret Regarding This Item