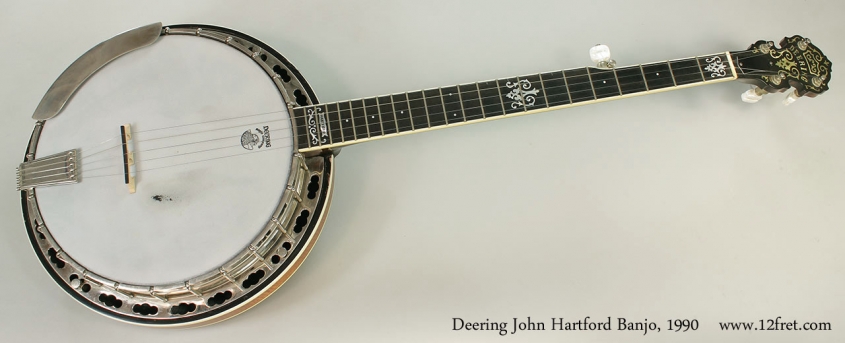 Price: CDN $2250
US Price:
US $1791.83
*US dollar exchange varies daily
Class: Used
Consignment
SOLD
S/N: 011591-1436
The Deering John Hartford banjo was created for the late John Hartford, who was fascinated by the history of banjo and American music. John needed the solid reliability of a modern banjo but with a more old-time tone for the traditional Riverboat Banjo techniques he was known for. He teamed up with Greg Deering to create a banjo with the warmth and projection he needed for the thousands of live and television performances he made.
Greg Deering tells me it was an extended experiment with several variations and the 22 fret-with-flange version that we see today represents the culmination of the development process.
The secret was in fitting a "Grenadillo Wood" tone ring to what is essentially a Deering Calico banjo (with inlays reminiscent of the US Riverboat period). Grenadillo wood is extremely dense and is used on Conga drums and offers comparable sustain to the Calico but much warmer and fatter in the treble range. Plus, there is a huge weight saving of about 4 pounds compared to most standard Bluegrass banjos.
This unique tone-ring is mounted on a three-ply maple rim with a zinc flange to create lighter weight (8 lbs instead of 11 or 12) banjo. It's a very good choice for bluegrass as well as other styles!
The Deering John Hartford banjo sounds like a vintage pre-war banjo when new but also as it ages, it "plays-in" like a violin and gains in volume and presence the more it is played. We've seen it out-do even the best bronze tone-ring banjos in jam sessions!
Though well played, this 1990/1991 built Deering John Hartford banjo has been well cared for and plays and sounds great. A case is included.
Visit the John Hartford website here
Visit the Deering Banjo website to learn more about the Deering John Hartford Banjo!
Contact The Twelfth Fret Regarding This Item