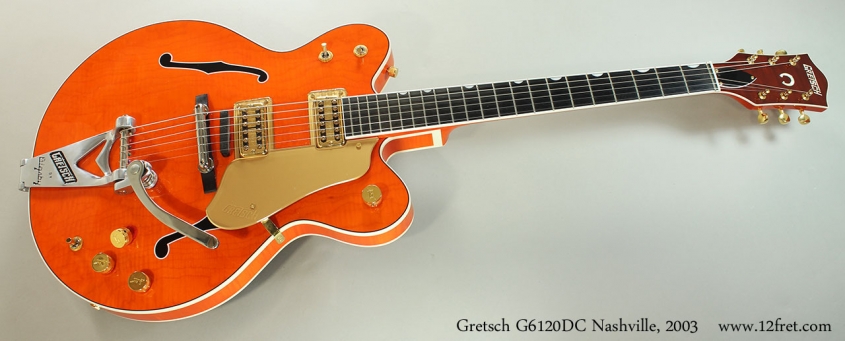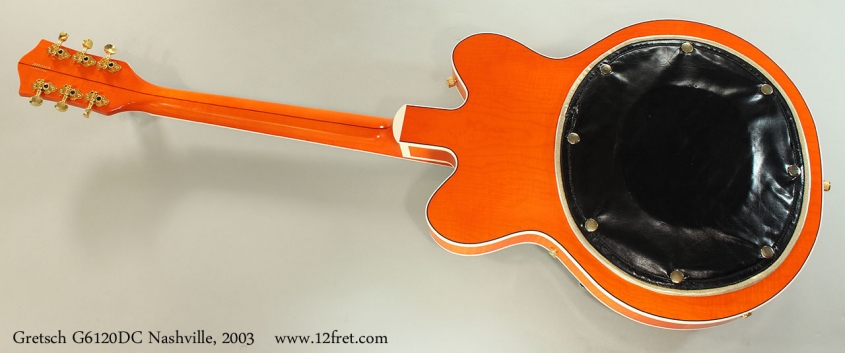 Price: CDN $2150
US Price:
US $1712.19
*US dollar exchange varies daily
Class: Used
Consignment
SOLD
Weight: 3.5 kg
S/N: JD03120379, built during December 2003 at the Dyna Gakki plant in Japan.
The Gretsch G6120DC appeared in 1962 with a Chet Atkins trademark, and was a thin body, double cutaway version of the classic Chet Atkins 6120, smaller than the 6122 Country Gentleman. After 1966, when the agreement with Chet Atkins expired, the Atkins name was dropped and the guitar became the Nashville. The 'electrotone' body is closed, with the f-holes either painted on or a decal, and there's an access panel on the back covered by a snap-on pad. &nbsp At the time this guitar was built, the agreement between Gretsch and Chet Atkins had expired, so it does not carry the Chet Atkins name. The Atkins Estate and Gretsch renewed their agreement in 2008. &nbsp This example was built in December 2003 at the Dyna Gakki plant in Japan, and is an excellent guitar in very good condition. The body uses a nicely flamed maple laminate, and the traditional Gretsch orange finish is in excellent condition. &nbsp Frankly - I'm having a hard time photographing and writing about this guitar because it's so nice to play. The action is clear and clean all the way up and down the neck, the 16-inch body is a very comfortable size and at 3.5kg, it is not a burden. I could sit here all day with this. &nbsp I like the tone from the rocking bar bridge, and with careful placement intonation is not a big problem; I start to intonate these bridges using the A and B strings, and compare the 5th and 17th frets. &nbsp Hardware is gold plated, with the historic exception of the Bigsby, which is in its native polished aluminum. The plating is in great condition, so it's likely that this guitar has basically not been played and the parts not handled. Tuners are gold-plated Grover Sta-Tite models. &nbsp The original hardshell case is included.
Contact The Twelfth Fret Regarding This Item